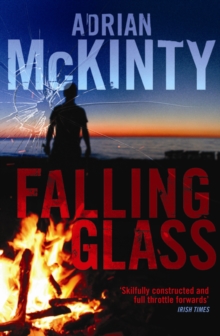 Description
Killian makes a living enforcing other people's laws, collecting debts, dealing out threats and finding people who do not wish to be found.
Now regular McKinty hero Michael Forsythe sets Killian up with the best paid job of his life: Richard Coulter, an Irishman with political connections, and the owner of a budget airline, is willing to pay half a million to track down his ex-wife and children. But Killian discovers the real reason Coulter's ex is running, and helps her take refuge among his people, a community of Irish Travellers, who close ranks to protect them-for a little while at least... 'McKinty is one of Britain's great contemporary crime writers and the Sean Duffy books are his masterpiece.'IAN RANKIN
Information
Format: Paperback
Pages: 320 pages
Publisher: Profile Books Ltd
Publication Date: 05/01/2012
Category: Crime & mystery
ISBN: 9781846687839
Free Home Delivery
on all orders
Pick up orders
from local bookshops
Reviews
Showing 1 - 5 of 6 reviews.
Previous | Next
Review by sareiner
16/06/2015
Ok this book is getting 3.5 stars…. It really deserves like a 1 star for the audio version which I listen to. The reader had such a strong Irish accent that it was hard to understand what the heck he was saying. I understand it was an Irish book and Irish setting, but come on now! I need to know what the heck your saying!Killian is a Tinker, a traveler, a background that he cannot get away from, a lifestyle to which he can return with absolutely no questions asked and all kindnesses forthcoming. He is also somewhat semi-retired hit man. He is an enforcer rather than a straight out hit man. He looks for solutions to problems, and he is not above using some elegant albeit somewhat crafty ways of getting results for whoever is paying him. He is good at finding people that do not want to be found. So when a very rich Irish businessman, Richard Coulter, hires him to find his ex-wife who took off with his daughters, he cannot say no. We are introduced to Coulter's ex-wife and daughters who are on the run. The ex-wife is a drug addicted, recovering, who is running from the ex-husband for reasons not said, but we do know it has something to do with the ex-husbands laptop that she has been carrying around. After reading scene after scene of the ex-wife running away from bounty hunter after bounty hunter, we are introduced to someone who is following Killian. Another hit man hired by Coulter to kill the ex-wife. Killian is wondering what the real reason why Coulter wants his wife found and why there is a hit man out to kill her.When Killian finds the ex-wife she shows him the laptop and why she has been running and of course Killian switches sides and tries to save her and the girls. His journey goes from being all about the money, to an understanding that there are some things that are more important than money.
Review by Suzannie1
16/06/2015
great right up until the ending , that was disappointing , killian involved in searching for an Airline owners wife and 2 daughters , but sadly the ending was not great , still love these books
Review by PhilipJHunt
16/06/2015
Another great romp from Adrian McKinty. Well plotted with just enough twists and surprises to keep the pages turning. His descriptions of Northern Ireland are unsurprisingly authentic and his characters gritty but enjoyable - even the baddies.
Review by ecw0647
16/06/2015
Audiobook read with the classic Irish brogue by Gerald Doyle. There's a great scene in the beginning where Killian, sent to either kill or get money from a man with huge gambling debts, talks his way out of a desperate situation where the debtor gets the drop on him with a shotgun. In the end, both he, the man, and Killian's boss make out financially well. Classic Killian, having long retired as an IRA fixer, has watched his real estate investments go bad as the economy tanks in Ireland. So when the offer of an extremely well-paying job comes along, ostensibly simple, to find and retrieve the ex-wife and daughters of an extremely wealthy airline owner, Killian agrees to take the job. Nothing is ever simple nor as it appears, and while Richard Coulter, his employer insists it's only about getting his daughters back, there's also a laptop that figures in the equation, not to mention an ex-military Russian who wants to earn the reward, too and will stop at nothing to get it. There's an interesting subtext to the book: an examination and brief history of the Pavee** travellers, not Romani Gypsies as the author is at pains to point out, but some say the original settlers of Ireland. Some readers may find these digressions as distracting; I did not. I enjoy a little social history with my fiction. These "tinkers" as they are also known, earn their living as free-spirited wandering carnival operators. Subject to extreme hostility and prejudice, Killian has roots in the community which helps him extricate himself, Rachel and the girls from the devastating information they discover on the laptop, information that could destroy the peace-process and bring down the government and many wealthy men. This story will grab you and not let go until the end. **From the Wikipedia: "The historical origins of Irish Travellers as an ethnic group has been a subject of academic and popular debate. Such discussions have been difficult as Irish Travellers left no written records of their own.[23][24]In 2011 an analysis of DNA from 40 Travellers was undertaken at the Royal College of Surgeons in Dublin and the University of Edinburgh. The study provided evidence that Irish Travellers are a distinct Irish ethnic minority, who separated from the settled Irish community at least 1000 years ago; the claim was made that they are distinct from the settled community as Icelanders are from Norwegians.[25] Even though all families claim ancient origins, not all families of Irish Travellers date back to the same point in time; some families adopted Traveller customs centuries ago, while others did so more recently.[26] It is unclear how many Irish Travellers would be included in this distinct ethnic group at least from a genetic perspective. There has been a wide range of theories speculating their origins such as that they were descended from those Irish who were made homeless by Oliver Cromwell's military campaign in Ireland in the 1650s, or possibly from the people made homeless in the 1840s famine due to eviction, or the descendants of aristocratic nomads the Clan Murtagh O'Connors in the Late Middle Ages. Their nomadism was based on cattle-herds or creaghts. There is evidence that, by the 12th century, the name Tynkler and Tynker emerged in reference to a group of nomads who maintained a separate identity, social organization, and dialect.[23] The genetic evidence indicates Irish Travellers have been a distinct ethnic group in Ireland for at least a millennium."
Review by smik
16/06/2015
This makes very good listening.Killian comes out of retirement to find Richard Coulter's wife - the money on offer is far too good. Half a million dollars seems a lot of money for dealing with a custody case. At first Rachel Coulter alone knows why her ex-husband is having her hunted down. There's a lot more at stake than two little girls.The tension rises as Coulter pours more resources into the hunt. Killian realises that he himself is being tracked.This is a difficult book to review without revealing too much of the story and so I'm not going to tell you much more. Despite his background as an IRA enforcer Killian comes over as a likeable character, but his willingness to be ruthless also comes in handy. The story is based mainly in Ireland.