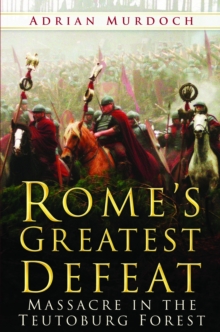 Rome's Greatest Defeat : Massacre in the Teutoburg Forest
Paperback / softback
Description
In AD 9 half of Rome's Western army was ambushed in a German forest and annihilated.
Three legions, three cavalry units and six auxiliary regiments - some 25,000 men - were wiped out.
It dealt a body blow to the empire's imperial pretensions and was Rome's greatest defeat.
No other battle stopped the Roman empire dead in its tracks.
Although one of the most significant and dramatic battles in European history, this is also one which has been largely overlooked.
Drawing on primary sources and a vast wealth of new archaeological evidence, Adrian Murdoch brings to life the battle itself, the historical background and the effects of the Roman defeat as well as exploring the personalities of those who took part.
Information
Format: Paperback / softback
Pages: 256 pages
Publisher: The History Press Ltd
Publication Date: 14/07/2008
Category: European history
ISBN: 9780750940160