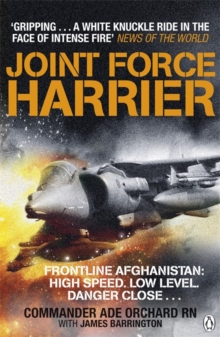 Joint Force Harrier
Paperback
Description
Helmand Province, October 2006: British soldiers are engaged in the most intense, sustained fighting they've faced since the Korean War.
Against a tough, experienced and frighteningly motivated enemy, their lives too often depended on the success of danger-close, pin-point attacks pressed home from the air.
When 800 Naval Air Squadron - callsign 'Recoil' - arrived in theatre, their Boss, Commander Ade Orchard, knew there could be no slip-ups.
Day and night, the Fleet Air Arm crews were on constant alert, ready to scramble their heavily armed Harrier attack jets at a moment's notice in support of the men on the ground.
The call wasn't slow in coming. Just fifteen minutes after getting airborne for the first time, Orchard and his wingman were in the thick of it, called in when an Apache helicopter gunship was forced back by heavy fire . . . The first book written by a serving British fast jet pilot since the 1991 Gulf War, Joint Force Harrier offers an unprecedented, heart-stopping insight into the realities of modern air warfare.
The complexity and sophistication of the equipment may have moved on since the epic war battles of WWII, but it's clear that the courage, skill and character of the men engaged in this struggle for a country's survival has not.
Information
Format: Paperback
Pages: 344 pages, 16 pp colour inset
Publisher: Penguin Books Ltd
Publication Date: 26/03/2009
Category: True war & combat stories
ISBN: 9780141035710
Free Home Delivery
on all orders
Pick up orders
from local bookshops
Reviews
Showing 1 - 1 of 1 reviews.
Review by HenriMoreaux
16/06/2015
Joint Force Harrier is the war memoir of 800 Naval Air Squadron Commander Ade Orchard.It covers the deployment of 800 NAS, who fly the Harrier GR7, from September 2006 to January 2007 in the Kandahar Province of Afghanistan.This is an extremely well written book which really demonstrates the challenges faced by pilots and soldiers in the war in Afghanistan. It illustrates the important role of close air support as well as providing a scintillating portrayal of events which would rival the majority of fictional war stories.Events that take place are described in a level of detail that lets you picture it accurately without being bored by details. In addition throughout the book there is the juxtaposition combat to base life where odd events take place such as the pilots being scrambled for an emergency then as they rush to their planes to get up into the air they are chased by a cop for speeding; or the occupational health and safety officer who complains about the danger of an unauthorised awning over a deck despite there being rockets routinely exploding in the base...Great book, well worth a read.