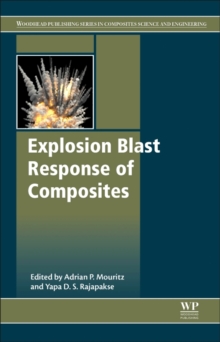 Explosion Blast Response of Composites
Paperback / softback
Description
Explosion Blast Response of Composites contains key information on the effects of explosions, shock waves, and detonation products (e.g. fragments, shrapnel) on the deformation and damage to composites.
The book considers the blast response of laminates and sandwich composites, along with blast mitigation of composites (including coating systems and energy absorbing materials). Broken down under the following key themes: Introduction to explosive blast response of composites, Air explosion blast response of composites, Underwater explosion blast response of composites, and High strain rate and dynamic properties of composites, the book deals with an important and contemporary topic due to the extensive use of composites in applications where explosive blasts are an ever-present threat, such as military aircraft, armoured vehicles, naval ships and submarines, body armour, and other defense applications. In addition, the growing use of IEDs and other types of bombs used by terrorists to attack civilian and military targets highlights the need for this book.
Many terrorist attacks occur in subways, trains, buses, aircraft, buildings, and other civil infrastructure made of composite materials.
Designers, engineers and terrorist experts need the essential information to protect civilians, military personnel, and assets from explosive blasts.
Information
Format: Paperback / softback
Pages: 432 pages
Publisher: Elsevier Science & Technology
Publication Date: 24/05/2017
Category: Testing of materials
ISBN: 9780081020920
Free Home Delivery
on all orders
Pick up orders
from local bookshops