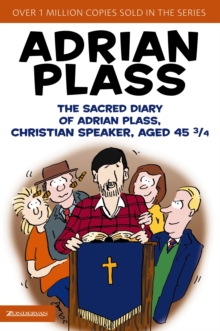 The Sacred Diary of Adrian Plass, Christian Speaker, Aged 45 3/4
Paperback
Description
Adrian Plass lovers got their initial baptism of laughter through his bestseller, The Sacred Diary of Adrian Plass (aged 37 3/4).
The author's account of `serious spiritual experiences' naturally made him in demand as a public speaker - so of course another diary was inevitable. The Sacred Diary of Adrian Plass, Christian Speaker (aged 45 3/4) continues the misadventures of Adrian's fictional alter-ego.
As Plass gathers regularly with his support group, we meet old friends, including his longsuffering wife, Anne; son Gerald, now grown but no less irrepressible; loony and loveable Leonard Thynn; Edwin, the wise church elder; and Richard and Doreen Cook, who are just as religious as ever.
We also meet some new characters, such as Stephanie Widgeon, who only seems to have one thing to say, ever. . . and who knows, we might even find out why Leonard Thynn borrowed Adrian's cat all those years ago. And finally - what is a banner ripping seminar?
Information
Format: Paperback
Pages: 176 pages
Publisher: Zondervan
Publication Date: 31/08/2005
ISBN: 9780310269137
Free Home Delivery
on all orders
Pick up orders
from local bookshops
Reviews
Showing 1 - 1 of 1 reviews.
Review by SueinCyprus
02/03/2016
A little more thought-provoking than the earlier 'diary' by the same author, but there are still some very funny moments. The second time I read it, in 1999, was less than two years after the first time, so it wasn't quite so hilarious, but still well worth reading. It ties up a lot of loose ends from the earlier Plass books. <br/><br/>Added after third reading in 2014:<br/><br/>The first three books were - to coin an over-used cliché - a breath of fresh air when they first appeared, in the early 1990s. Plass spoke honestly into a generation of young people who had grown up in evangelical circles, but were starting to ask open and sometimes difficult questions which the leaders were reluctant to answer. Modernism was giving way to post-modernism in the West, but the church in general was failing to keep up. Plass encouraged us to laugh at ourselves, and to poke gentle fun at some of the foibles of the church from within, while - at the same time - focussing more closely on the God who loves us despite everything. <br/><br/>I had been concerned that this sequel, published in 1997, would prove a disappointment, but was delighted to be proved wrong. I smiled in many places, and chuckled few times, and found myself thinking about the contents at odd times long after I had finished.<br/><br/>Re-reading 15 years later, I enjoyed it afresh, and yes, despite knowing most of the punchlines and the general outcome of the stories, I still found myself laughing out loud more than once. <br/><br/>Highly recommended, although it makes the most sense to read this after, at least, the first Sacred Diary book.