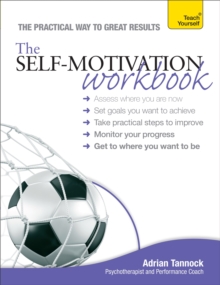 The Self-Motivation Workbook: Teach Yourself
Paperback
Description
- Understand why you lack motivation, and learn how you can change the direction ofyour life- Overcome procrastination and lethargic and negative emotions, and focus on what youwant to achieve- Find the motivation you need to work harder at your job and succeed in your career- Use the techniques of motivation to stick to healthy eating and exercise, and quitsmoking and other bad habits- Get started with a new hobby, learn a new language or instrument, and succeed atsportDo you want to beat procrastination and make positive changes in your life?
Do you want to improve your performance at work or in your studies, or spur yourself on to get a new job?
Do you want to challenge your negative core beliefs and harness the power of motivation to quit bad habits, lose weight, and learn new things?
This new Teach Yourself Workbook doesn't just tell you how to improve your motivation.
It accompanies you every step of the way, with diagnostic tools, goal-setting charts, practical exercises, and many more features ideal for people who want a more active style of learning.
Specially created exercises will help you boost and maintain your motivation to achieve your goals. This book includes information on:motivationself-helpprocrastinationcareergoalsanxietycore beliefsworksports performancestudy
Free Home Delivery
on all orders
Pick up orders
from local bookshops