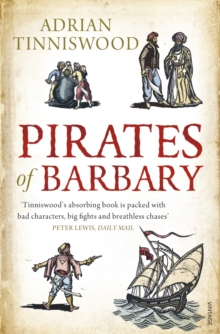 Pirates Of BarbaryCorsairs, Conquests and Captivity in the 17th-Century
Paperback
Description
From the coast of Southern Europe to Morocco and the Ottoman states of Algiers, Tunis and Tripoli, Christian and Muslim seafarers met in bustling ports to swap religions, to battle and to trade goods and sales - raiding as far as Ireland and Iceland in search of their human currency.
Studying the origins of these men, their culture and practices, Adrian Tinniswood expertly recreates the twilight world of the corsairs and uncovers a truly remarkable clash of civilisations.
Drawing on a wealth of material, from furious royal proclamations to the private letters of pirates and their victims, as well as recent Islamic accounts, "Pirates of Barbary" provides a new perspectives of the corsairs and a fascinating insight into what it meant to sacrifice all you have for a life so violent, so uncertain and so alien that it sets you apart from the rest of mankind.
Information
Format: Paperback
Pages: 368 pages
Publisher: Vintage Publishing
Publication Date: 03/03/2011
Category: African history
ISBN: 9780099523864
Free Home Delivery
on all orders
Pick up orders
from local bookshops