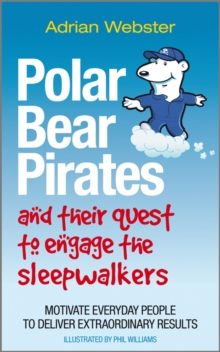 Polar Bear Pirates and Their Quest to Engage the Sleepwalkers : Motivate Everyday People to Deliver Extraordinary Results
Paperback
Description
Conquer complacency and transform your team into a happy, winning crew.
Polar Bear Pirates are highly focused, successful characters, they can't help but motivate everyone around them and just like you; they love to have some fun.
In their latest quest, they take on the Sleepwalkers, the workplace zombies who are with you in body but never take a step beyond the ordinary because their minds have drifted into sleep mode.
Going through the motions, thinking the same old stuff and delivering the same results, they stand out like beacons of disappointment.
Sleepwalkers can be found orbiting Planet Complacency.
This place is in the arch enemy of success! It is a huge planet, more powerful than the inhospitable Rock Bottom, it appears to be a comfortable, safe and popular place to be.
Yet this silent assassin is responsible for snuffing out millions of dreams and kidnapping untold potential.
Stepping Beyond Ordinary The Polar Bear Pirates' mission is to re-awaken dormant talent and release untapped potential.
Join them and meet a cast of amazing characters, from Neg Ferrets and Bloaters, to Amps and Vamps. One thing's for sure, you'll come out the other side inspired and ready to get the best out of your team and the people around you.
Polar Bear Pirates shows you how to motivate everyday people to deliver extraordinary results.
Information
Format: Paperback
Pages: 198 pages, Illustrations
Publisher: John Wiley and Sons Ltd
Publication Date: 01/04/2011
Category: Business & management
ISBN: 9780857081278
Other Formats
EPUB from £8.57
PDF from £8.57
Free Home Delivery
on all orders
Pick up orders
from local bookshops
Reviews
Showing 1 - 1 of 1 reviews.
Review by hashford
16/06/2015
This book is quite short, but it is packed full of observations about office life and suggestions for managers to motivate their teams. It is entertaining and fairly lightweight to read, but never falls into the trap of being patronising. It starts off with amusing descriptions of people that you meet in the office who hold you back ("Neg Ferrets", "Bloaters", "Sinkers", "Head Treads") and some who will help you ("Betty Back Room"). Personally I wasn't happy with attaching labels to people, but I do recognise the descriptions of problem (and positive) behaviours.It goes onto discuss why people become "sleepwalkers" and operate at only a fraction of their potential, giving some lovely examples from business, and from day-to-day life.Subsequent chapters look at how to encourage people to give their best, discuss what we mean by "success", describe how to identify the people in your team who have energy ("Amps" and "Vamps") and how best to use them, and give a whole host of tips for motivating your staff and building up a really good team. The whole thing is brought to life with real life anecdotes and examples.I enjoyed reading the book, and found it accessible and full of good ideas. There's nothing particularly new or earth-shaking about it and there are plenty of other motivational books around that cover similar ground, but it is easy to read, the ideas are put across simply and without unnecessary padding, and I can imagine it would be very useful to new managers, or those who feel they may have got into a rut.Certainly there are some nuggets in it that I will try to put into practice in my work – and what more can you ask from a business book of this length?