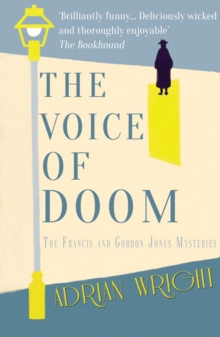 The Voice of Doom
Paperback / softback
Description
In 1950s' Norfolk teenage cousins Francis and Gordon Jones earn their reputation as 'The Boy Detectives' in the first of a series of extraordinary adventures.
Adrian Wright's delightful spoof of boys' stories of the 1950s comes with a strong dash of retro and a sharp jab of adult perspective.
With an eclectic mix of characters - Mrs Jones (Francis' corset-making mother), the Reverend Challis (who always takes a keen interest in the boys' progress), Lady Darting (the domineering village grandee), Bunty Rogers (the striptease artiste) - Francis and Gordon unravel six perplexing mysteries.
The Voice of Doom is Francis and Gordon's first foray into the art of mystery solving, taking on cases from the strange happenings at St Mildred's School for the Advancement of Derserving Girls, to the affair of the Pearl of Thalia.
The local constabulary might be scratching their heads, but Francis and Gordon are on the case.
Inspired by the 'Norman and Henry Bones' stories of Anthony Wilson, The Voice of Doom combines mystery with a sharp comic edge, resulting in a rare treat for fans of comical novels.
Information
Format: Paperback / softback
Pages: 272 pages
Publisher: Troubador Publishing
Publication Date: 28/10/2016
ISBN: 9781785893285
Free Home Delivery
on all orders
Pick up orders
from local bookshops
Also by Adrian Wright