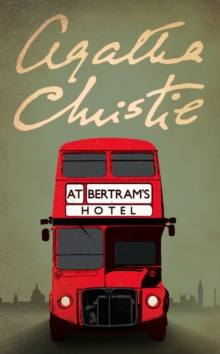 At Bertram's Hotel
Paperback
Description
An old-fashioned London Hotel is not quite as reputable as it makes out... When Miss Marple comes up from the country for a holiday in London, she finds what she's looking for at Bertram's Hotel: traditional decor, impeccable service and an unmistakable atmosphere of danger behind the highly polished veneer. Yet, not even Miss Marple can foresee the violent chain of events set in motion when an eccentric guest makes his way to the airport on the wrong day...
Information
Format: Paperback
Pages: 224 pages
Publisher: HarperCollins Publishers
Publication Date: 02/09/2002
Category: Classic crime
ISBN: 9780007121038
Other Formats
Hardback from £10.65
CD-Audio from £13.29
EPUB from £2.99
Paperback from £7.69
eAudiobook MP3 from £6.75
Free Home Delivery
on all orders
Pick up orders
from local bookshops
Reviews
Showing 1 - 3 of 3 reviews.
Review by DeltaQueen50
16/06/2015
A quiet select hotel with an excellent Mayfair location, Bertram's Hotel has been in business for many years. It's like a small slice of Edwardian London and it's appeal is growing among American tourists as well as the older clientele that it has been serving for generations. Offering the perfect English tea, glowing coal fires, quiet studies, and impeccable staff, Bertram's seems too good to be true.Miss Jane Marple is enjoying her stay at Bertram's, as usual she sits quietly in a corner, knitting and sipping her tea and observing all the comings and goings. Yes, things aren't all what they seem at this exclusive hotel. From a missing clergyman, to a young impressionable heiress, and a flamboyant woman who lives her life on the gossip pages, Miss Marple has a lot to ponder upon.Another excellent Agatha Christie mystery story where the mystery isn't nearly as important as the atmosphere or the characters. I thoroughly enjoyed my visit to Bertram's Hotel.
Review by mauveberry
16/06/2015
I had watched the BBC version of At Bertram's Hotel before I read the book, so I already knew who did it at the beginning of the book. The story and characters are different enough that most of it was new to me. However, I did not like the characters as much as I did in the BBC version. I also felt that the ending of the story was too abrupt.
Review by brokenangelkisses
16/06/2015
It is perhaps rather surprising that I have previously had such little contact with Agatha Christie. She is apparently the most published author of all time and in any language (excepting Shakespeare and the Bible) and I am an avid reader with a particular tendency towards crime writing. Yet, apart from reading 'Murder on the Orient Express' in my teens, I had avoided reading her – not consciously, but more through a lack of genuine interest. However, I always vaguely intended to read her one day and, when she turned out to be this month's crime writer for my reading group, I was rather pleased. Why is this writer so popular? I looked forward to finding out. Would I be disappointed? (After all, Jodi Picoult's books are hugely *popular*; it doesn't mean that I enjoy reading them. And I still refuse to even begin Harry Potter.) I was given one of her Miss Marple books and soon settled down to read it.Bertram's Hotel…is rather unusual. Miss Marple, apparently enjoying a few days away to relax after her last sleuthing escapade, is pleased to be able to experience life in the respectable London hotel as she did sixty years previously as a mere girl, but soon feels something isn't quite right. Why does an old acquaintance, Selina Hazy, think she sees so many familiar faces who turn out, on closer inspection, not to be familiar at all? How is the hotel able to survive with so many guests on a pension? And where do they get such fabulous staff from? Initially these questions, voiced by various characters, seem almost irrelevant, but as the plot develops they all develop a sharp pertinence.The opening, as you might have guessed from the above questions, is rather slow and yet somehow I feel as if I'm doing the story a disservice by noting it. The pace is certainly gentle, but it wasn't irritating (and I'm the first to become impatient when I feel writers are dragging things out). The opening chapters felt like I was being gathered into the life of the hotel and its characters. Gradually, the relationships between the characters begin to develop a clearer shape and they become convincing (if perhaps rather one-dimensional) people. This may sound dull and I agree that it wasn't compelling, but the interesting setting and the clear sense of time and place meant that I felt sufficiently engaged to keep reading. I was never bored.Interestingly, the 'action' seems to start rather a long way through the story (although there is a robbery very early on that is dealt with in one short chapter). A forgetful man disappears. At first, no one is worried; Canon Pennyfather is the sort of chap who stands in the Church and tries to remember whether he has just given the service or is about to do so. Indeed, his worried Housekeeper soon realises that he had tried to go to the airport to catch a flight on the wrong day. But where did he go after that? After three days with no word, it seems something serious has occurred… Even then, this disappearance seems a rather slight premise for a crime novel.And yet, by the end, when all the threads of the story came together, I realised that important things had been simmering and happening all along. I felt a real sense of satisfaction on reaching the end of the novel. There were suitably sedate twists and turns, a rather old fashioned denouement and a good level of explanation. Some readers might find the plotting a little too contrived but I really liked the way everything came together at the end.Miss MarpleWhat really surprised me was Miss Marple's involvement in the mystery. I had understood that she was an amateur sleuth who often embarrassed local police officers by using her insight into human nature to make connections that they had missed. However, in this story she really does seem to be little more than a nosy old woman who happens to overhear and see a few intriguing incidents. The real detective is, well, the detective. Chief-Inspector Davey, to be precise (who is rather bizarrely known to other officers at Scotland Yard as 'father'). Davey knowledgeably puts pieces of the puzzle side by side before anyone else even realises they are part of a puzzle and Miss Marple's role is reduced almost to a Watson-esque position: she notices things but the great man puts them together.I found this slightly disappointing, simply because it wasn't what I'd expected. I think this may be atypical of books featuring Miss Marple but do not know for certain. However, it was interesting to follow Davey's insights and often gently amusing to read of their conversations. Take the following:"[Miss Marple reveals an important detail about the victim to 'Father'. He repeats this, rather stunned at the revelation.]'Yes,' said Miss Marple and added: 'I thought it was odd at the time.'Father looked at her for some moments.'Miss Marple,' he said, 'why haven't you told anyone this before?''Nobody asked me,' said Miss Marple simply."I found the idea of the respected detective being momentarily flummoxed by an elderly lady (and her age is really emphasised in this story) mildly entertaining. Although Miss Marple did not take the leading role, the narrative often follows her actions and the way the mystery was resolved was focused on an understanding of people and their nature, rather than simply physical clues, so I think it was typical of the series in that respect.Final thoughtsI found this quietly enjoyable. While it wasn't a compelling read, I liked the book more because it didn't depend upon shocking cliffhangers and terribly detailed descriptions of violence. It all felt rather genteel (there is one moment near the end which seems rather shockingly underemphasised). I liked the sense that I had entered into another world, and not just because of the inevitable difference in social attitudes which naturally permeate a book written in 1965. The hotel and its characters were convincingly created and there was sufficient mystery to engage and keep my interest. I felt the ending was satisfying though some readers might find the style and complexity slightly irritating. I would certainly read another book by Agatha Christie and would recommend this to anyone who enjoys the kind of crime writing that focuses on motives and personalities rather than forensics and embittered, lonely detectives.This edition is a nice size to hold for reading and, at £6.99 RRP, seems reasonably priced for 320 pages, especially since one could happily reread this and enjoy noticing all the clues one may not have really focused on the first time round. That said, I'm sure it could be found much cheaper second-hand or even just online. (My copy belongs to my lovely local library!) I also liked the way the Miss Marple books were listed discreetly and chronologically on the back next to the blurb and the title of this book was printed in red. A fan of Christie could create a very nice set using these, despite the rather depressing shade of green chosen for the cover of this one.
Also in the Miss Marple series | View all