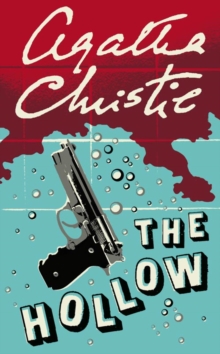 The Hollow
Paperback
Part of the Poirot series
Description
Agatha Christie's ingenious mystery thriller, reissued with a striking new cover designed to appeal to the latest generation of Agatha Christie fans and book lovers.Lucy Angkatell invited Hercule Poirot to lunch.
To tease the great detective, her guests stage a mock murder beside the swimming pool.
Unfortunately, the victim plays the scene for real. As his blood drips into the water, John Christow gasps one final word: `Henrietta'.
In the confusion, a gun sinks to the bottom of the pool.Poirot's enquiries reveal a complex web of romantic attachments.
It seems everyone in the drama is a suspect - and each a victim of love.
Information
Format: Paperback
Pages: 240 pages
Publisher: HarperCollins Publishers
Publication Date: 01/07/2002
Category: Classic crime
ISBN: 9780007121021
Other Formats
Hardback from £9.85
Paperback from £7.15
EPUB from £2.99
Free Home Delivery
on all orders
Pick up orders
from local bookshops
Reviews
Showing 1 - 3 of 3 reviews.
Review by riverwillow
16/06/2015
This is a fascinating tale with bluff and double bluff centred around a fascinating family. The characterisation in this novel is superb.. The plot is peppered with red herrings, but Poirot gets there in the end.
Review by smik
16/06/2015
If you've been reading the Agatha Christie novels in order then you'll remember that you have already met Lady Lucy Angkatell in Baghdad. In the following extract she is talking about the composition of her impending house party. Hercule Poirot is staying in one of the nearby cottages (ironically called Resthaven), which he has bought after pressure from friends, even though he doesn't actually like country life. Lady Angkatell stretched out fluttering white hands in a lovely, helpless gesture. 'All the wrong people coming–the wrong people to be together, I mean–not in themselves. They're all charming really.' 'Who is coming?' 'The ingredients of the pudding are not promising,' murmured Midge. Lucy smiled at her. 'Sometimes,' she said meditatively, 'things arrange themselves quite simply. I've asked the Crime man to lunch on Sunday. It will make a distraction, don't you think so?' 'Crime man?' 'Like an egg,' said Lady Angkatell. 'He was in Baghdad, solving something, when Henry was High Commissioner. Or perhaps it was afterwards? We had him to lunch with some other Duty people. He had on a white duck suit, I remember, and a pink flower in his buttonhole, and black patent-leather shoes. I don't remember much about it because I never think it's very interesting who killed who. I mean, once they are dead it doesn't seem to matter why, and to make a fuss about it all seems so silly…' THE HOLLOW contains an interesting exploration of what binds people together. It seems to me that it would make a very good classroom discussion book. But he half-closed his eyes and conjured them up–all of them–seeing them clearly in his mind's eye. Sir Henry, upright, responsible, trusted administrator of Empire. Lady Angkatell, shadowy, elusive, unexpectedly and bewilderingly charming, with that deadly power of inconsequent suggestion. Henrietta Savernake, who had loved John Christow better than she loved herself. The gentle and negative Edward Angkatell. The dark, positive girl called Midge Hardcastle. The dazed, bewildered face of Gerda Christow clasping a revolver in her hand. The offended adolescent personality of David Angkatell. There they all were, caught and held in the meshes of the law. Bound together for a little while in the relentless aftermath of sudden and violent death. There are a number of issues that surface. As after Word War One, Christie appears to be struck by the way the world has changed, not just politically but economically and socially.There's no mention of the Second World War but I assumed that THE HOLLOW was set more or less in the "present", that is, immediately after the war. Those with titles and or money don't seem to be aware that their way of life is endangered. The days of servants and large houses are numbered. Girls, like Midge Hardcastle have to work, and they can't always get jobs they like. Lucy, Henry, Edward–yes, even Henrietta–they were all divided from her by an impassable gulf–the gulf that separates the leisured from the working. They had no conception of the difficulties of getting a job, and once you had got it, of keeping it! One might say, perhaps, that there was no need, actually, for her to earn her living. Lucy and Henry would gladly give her a home–they would with equal gladness have made her an allowance. Edward would also willingly have done the latter. But something in Midge rebelled against the acceptance of ease offered her by her well-to-do relations. To come on rare occasions and sink into the well-ordered luxury of Lucy's life was delightful. She could revel in that. But some sturdy independence of spirit held her back from accepting that life as a gift. The same feeling had prevented her from starting a business on her own with money borrowed from relations and friends. She had seen too much of that. There's a stage like quality to THE HOLLOW. It is easy to imagine it is a stage set and adapting it as a play would have been relatively easy. The action takes place episodically and indeed Poirot, when he first arrives, believes he has come across a tableau staged for his benefit. Hercule Poirot stepped out on to the open space surrounding the swimming pool, and immediately he, too, stiffened, but with annoyance. It was too much–it was really too much! He had not suspected such cheapness of the Angkatells. The long walk by the road, the disappointment at the house–and now this! The misplaced sense of humour of the English! He was annoyed and he was bored–oh, how he was bored. Death was not, to him, amusing. And here they had arranged for him, by way of a joke, a set-piece. For what he was looking at was a highly artificial murder scene. By the side of the pool was the body, artistically arranged with an outflung arm and even some red paint dripping gently over the edge of the concrete into the pool. It was a spectacular body, that of a handsome fair-haired man. Standing over the body, revolver in hand, was a woman, a short, powerfully built, middle-aged woman with a curiously blank expression.This sense of something staged, something artificial, crops up again and again, and adds to the mystery. Poirot thinks he is being directed and manipulated but he is not quite sure by whom.I could really go on discussing this book ad nauseam, but you really need to read it for yourself!
Review by amelish
16/06/2015
Terrible lady novelist bring us the best ever description of terrible lady drivers.