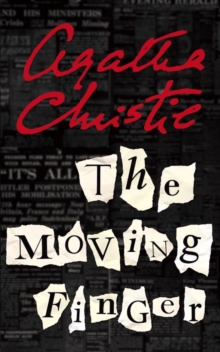 The Moving Finger
Paperback
Description
Agatha Christie's famous Miss Marple mystery, reissued with a striking new cover designed to appeal to the latest generation of Agatha Christie fans and book lovers.Lymstock is a town with more than its share of shameful secrets - a town where even a sudden outbreak of anonymous hate-mail causes only a minor stir.But all that changes when one of the recipients, Mrs Symmington, commits suicide.
Her final note said `I can't go on'. Only Miss Marple questions the coroner's verdict of suicide.
Was this the work of a poison-pen? Or of a poisoner?
Information
Format: Paperback
Pages: 320 pages
Publisher: HarperCollins Publishers
Publication Date: 01/03/2002
Category: Crime & mystery
ISBN: 9780007120840
Other Formats
CD-Audio from £9.95
Hardback from £9.85
Paperback from £6.15
EPUB from £2.99
eAudiobook MP3 from £4.95
Free Home Delivery
on all orders
Pick up orders
from local bookshops
Reviews
Showing 1 - 4 of 4 reviews.
Review by smik
16/06/2015
THE MOVING FINGER was written in 1942 and considered by Agatha Christie to be in her top 10 novels.The narrator is Jerry Burton, and while for some of the narration we feel as if the events are occurring simultaneously with the narration, much of the style is retrospective.This allows Christie to create "hanging endings" to chapters or parts of chapters. This is really the first time I have noticed her attempts at this style.Here is the end of Chapter 3. 'We have come down here,' I said sternly, 'for peace and quiet, and I mean to see we get it.' But peace and quiet were the last things we were to have.and a little later on, another example. She paused lost in thought, her eyes screwed up. Then she said slowly, as one who solves a problem, 'Blind hatred... yes, blind hatred. But even a blind man may stab to the heart by pure chance... And what would happen then, Mr Burton?' We were to know that before another day had passed.The other thing that is interesting about THE MOVING FINGER is that Miss Marple almost plays only a cameo role. The main sleuths are Jerry and his sister Joanna. Miss Marple is invited to stay by the vicar's wife quite late in the novel (at 75% according to Kindle's numbering). Up until that point Jerry had been counting the vicar's wife among his suspects, because she is rather odd, and he isn't even really sure about Miss Marple when she arrives. She seems to him to take an inordinate, almost unseemly, interest in the murder. The Dane Calthrops had a guest staying with them, an amiable elderly lady who was knitting something with white fleecy wool. We had very good hot scones for tea, the vicar came in, and beamed placidly on us whilst he pursued his gentle erudite conversation. It was very pleasant. I don't mean that we got away from the topic of the murder, because we didn't. Miss Marple, the guest, was naturally thrilled by the subject. As she said apologetically: 'We have so little to talk about in the country!' She had made up her mind that the dead girl must have been just like her Edith.In the long run it is of course Miss Marple who solves the crime, but she is gracious in saying that it was Jerry who made the various observations that led her to the right conclusions.The climax of the novel is a very interesting one as it uses a honey trap but those who set it up, Miss Marple and the police, don't tell Jerry what they are doing, and he independently becomes convinced that the woman he wants to marry is in great danger.
Review by shanaqui
16/06/2015
This one was fun, although I was rather confused at it being a Miss Marple book, since there was no sign of her until more than halfway through. She did arrive, though, a Marple ex machina, solving it all. I could say I found this one easy to figure out, but someone told me how it ended before I got there, so that's cheating.<br/><br/>The thing I liked most about this, I think, was the narrator, and his relationship with Megan. It just made me laugh -- him calling her catfish, and insulting her, and not knowing how fond of her he was becoming. So I smiled at the happy ending. I wouldn't mind seeing them again, in some later Miss Marple book...<br/><br/>Again, a fun snack between meals. A palate-cleanser between doses of Chandler, perhaps.
Review by nordie
16/06/2015
with all the adaptations going around, it's sometimes hard to remember if you've actually read the book or not<br/><br/>This is a Miss Marple story, though she does turn up late and is hardly in the story at all. <br/><br/>This is a story of Burton (and his sister) taking a house in the coutry after his flying accident. Soon they have received a poison pen letter accusing them of not being brother and sister, and not long after this people start dying. Burton has most of it worked out, even if he doesnt realise it, before Miss Marple arrives and ties everything up into a neat bow.<br/><br/>Once again, a short neat little story and a quick read to while away an afternoon or two
Review by jrsearcher
16/06/2015
Miss Marple doesn't come in until the last third of the book, and even at that point, she's still a secondary character.<br/><br/>The foreshadowing was interesting (but didn't help me "solve" the mystery)<br/><br/>I had to skip to the back and see "whodunnit" before I could finish reading.
Also in the Miss Marple series | View all