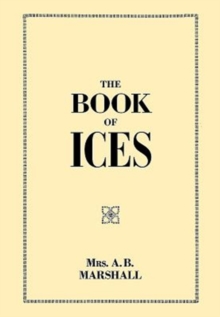 The Book of Ices
Paperback / softback
Description
Mrs. Agnes Marshall (1855 - 1905) was the most celebrated cook of her day; the equivalent to today's TV celebrity chefs.
She wrote four books: The Book of Ices 1885, Mrs. A.B. Marshall's Book of Cookery 1888, Mrs. A.B. Marshall's Larger Cookery Book of Extra Recipes 1891, and Fancy Ices 1894.
These are considered to be some of the finest books of their type ever written, especially those on ices, of which Mrs. Marshall was the undisputed authority. She ran a domestic staff agency, sold cooking equipment, and ran a successful cookery school.
She even patented an ice-cream machine which could freeze in five minutes.
As well as campaigning for better standards of food hygiene, she toured extensively, lecturing and demonstrating her techniques to huge audiences and she has been credited with the invention of the edible ice-cream cone, mentioned in her 1888 cookery book, in the recipe for cornets with cream. Prior to the edible cone, ice cream had been served in glass `licks'.
Information
Format: Paperback / softback
Pages: 80 pages
Publisher: Grub Street
Publication Date: 29/06/2018
Category: Desserts
ISBN: 9781911621225
Free Home Delivery
on all orders
Pick up orders
from local bookshops