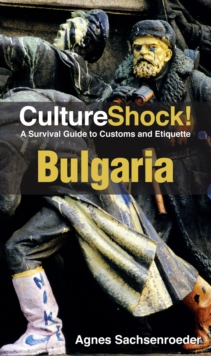 Bulgaria : A Survival Guide to Customs and Etiquette
Paperback / softback
Description
CultureShock! Bulgaria is your companion to this beautiful land that was once part of the Byzantine and Ottoman Empires and which was under Soviet influence for close to 50 years.
Discover how the people came to terms with the communist past and the changes that have taken place since they joined the European Union in 1997.
Learn to read the Cyrillic alphabet as you make your way around the many imposing historic buildings and understand why members of the same family may have seemingly different surnames.
Enjoy a selection of delicious dishes, best washed down by a glass or two of boza-a result of the country's agrarian roots, its tradition of honey gathering and abundance of fresh fruits and vegetables.
Practical advice on finding a home, arranging for utilities and day-to-day living make CultureShock!
Bulgaria your indispensable guide to settling in Bulgaria and enjoying its delights.
Information
Format: Paperback / softback
Pages: Illustrations (some col.)
Publisher: Marshall Cavendish
Publication Date: 11/01/2011
Category: Travel tips & advice: general
ISBN: 9780761458777