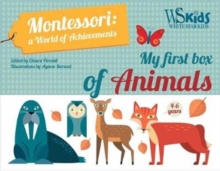 My First Box of Animals: Montessori a World of Achievements
Game
Description
The world of nature comes into little explorers' homes.
Thanks to the tiles with the illustrations of 24 animals of the savannah, the jungle, the wood, and polar regions, together with a brightly coloured poster, children between 4 and 6 years begin to build their knowledge of the animal world.
By means of various Montessori activities, little children learn the features of their favourite animals and their habitats autonomously and by visual learning strategies.
The structure of the activities suggested in the texts develops around some fundamental Montessori principles: - the content of the games follows a progressive complexity, to allow the child to become gradually familiar with it; - each activity has 3 progressive stages of learning: 1. presentation of the material through senses, 2. Recognition of the learning object material, 3. re-enactment of the material; - in each activity the child can directly control his mistakes, so that he can realize by himself the accuracy of his work; - the adult has a role of assistance and introduction to the various activities but the child can play independently the games; - handling and practical experience have a central role: often is required you to glue stickers, cut, draw and finger paint.
Information
Format:Game
Pages:Fully illustrated
Publisher:White Star
Publication Date:01/02/2018
Category:
ISBN:9788854412347