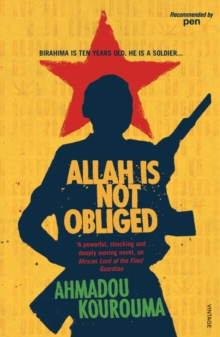 Allah is Not Obliged
Paperback
Description
'The full, final and completely complete title of my bullshit story is: Allah is not obliged to be fair about all things he does here on earth' Birahima's story is one of horror and laughter.
After his mother's death he travels to Liberia to find his aunt but on the way gets caught up in rebel fighting and ends up with a Kalashnikov in his hands.
He tells of the chaotic and terrible adventures that follow in his career as a small soldier with heartbreaking bravado and wisdom.
Information
Format: Paperback
Pages: 224 pages
Publisher: Vintage Publishing
Publication Date: 02/08/2007
ISBN: 9780099433927
Free Home Delivery
on all orders
Pick up orders
from local bookshops
Reviews
Showing 1 - 2 of 2 reviews.
Review by Clurb
16/06/2015
Ostensibly the story of ten year old Birahima, a street kid who becomes a child soldier, this is more a simplistic political history of the West African tribal wars than an account of Birahima's life, and suffers because of it.
Review by MeditationesMartini
16/06/2015
Oliver Twist crossed with Holden Caulfield? <i>Kids</i> crossed with <i>Lord of the Flies</i>? Bouncing back and forth between two civil wars, hopped up on hash and witchcraft? Birahima, our damaged li'l protagonist, weaves in and out of the West African hellscape, dancing between the tragedies like they turn to water as soon as they hit him. You root for him, the homicidal monster. You have to, because who else is availabe? Anyone who's not a killer is gonna get their arms and legs cut off by Foday Sankoh's RUF, or raped and decapitated by the Kamajors, an "Ivoirian Freemasonry of hunters," or tortured and executed by one of several cruel-beyond-belief "battle nun"–type figures who combine a kind of motherhood with a bloodlust that's cartoonish, mangaesque. Probably the kids will kill you fastest and feel worst about it.This book got a lot of things across from me. What it means for animism to be an immanent part of daily life, as opposed to a shameful indulgence like here in Uganda (it means a lot more killing). How important it is for newspaper atrocities to be attached to stories that tell it like people would tell it--cruicially, with all the hardbitten irony and absurdist delight this child soldier can muster--in order for the bewildering history to stick to your brain, turn into something with bite and dimension. How they guy in charge will never leave well enough alone, because "he doesn't give a fuck, he controls the useful part of Sierra Leone!" and by the time he realizes he can't get away with controlling it any more, it's way, way too late for hum to even control his own life or safety. Not giving a fuck--being too lazy, as well as too afraid, to do anything other than what the crowd is doing, even if that's killing everybody, because at least it's a living and a laugh and better to be doing the hand-chopping than having it done to you--is so fucking human-sounding and leaves me quite sure that if you took us in a vaunted first-world country like Canada and subtracted wealth and subsistence and added a million guns and ethnic hatred, you'd have the exact same thing. It would have been easy for Kourouma to tug the heartstrings, but he doesn't do it directly--only when you stop to reflect are you overwhelmed--because any kid would choose, like Birahima, not to give a fuck, since the ones who don't remove themselves from consideration by dying. Dying, and the threat of death, change everything, and we'd all be something fucked-up like a thugged-out cannibal or a baby with no hands or a bloodthirsty nun, or we'd just be wraiths of a past when there were other choices.