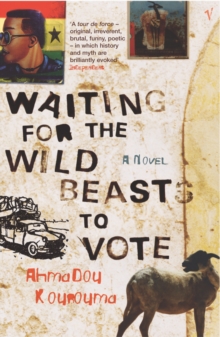 Waiting for the Wild Beasts to Vote
Paperback
Description
Ahmadou Kourouma's remarkable novel is narrated by Bingo, a West African sora - storyteller and king's fool.
Over the course of five nights he tells the life story of Koyaga, President and Dictator of the Gulf Coast. Orphaned at the age of seven, Koyaga grows up to be a terrible hunter; he fights mythical beasts, and is a shape-shifter, capable of changing himself into beasts and birds.
He fights in the French colonial armies, in Vietnam and Algeria, but on his return he mounts a coup and becomes ruler and dictator of the Gulf Coast.
For thirty years he runs a corrupt but 'clean' state, surviving repeated assassination attempts and gaining support and investment from abroad.
But when the 'First World' decides it no longer want to support dictatorships and call for democracy, he needs another ruse to maintain himself in power... Part magic, part history, part savage satire, Waiting for the Wild Beasts to Vote is nothing less than a history of post-colonial Africa itself.
Information
Format: Paperback
Pages: 464 pages
Publisher: Vintage Publishing
Publication Date: 06/05/2004
ISBN: 9780099283829
Free Home Delivery
on all orders
Pick up orders
from local bookshops
Reviews
Showing 1 - 2 of 2 reviews.
Review by eairo
16/06/2015
This is the story of "...Koyaga, hunter and President-dictator of the République du Golfe", narrated by sora Bingo, the bard-storyteller, assisted by Tiécorura, his koroduwa, the responder, apprentice, fool (as in jester or joker, not stupid) in form of donsomana, an epic traditionally told by a sora.Koyaga is present---he is often directly addressed by the narrator, and he answers and comments once in a while, which gives the book a nice flavor of intimacy---with seven others, the greatest of the Hunters and His Ministers.This is how it begins: "President Koyaga, General, Dictator, here we will sing and dance your donsomana over the feast of six vigils. We will tell the truth, about your dictatorship, your parents and your collaborators. The whole truth about your dirty tricks, your bullshit, your lies, your many crimes and assassinations..."The purpose of the feast of six vigils is purification. To prepare the Dictator, the Father of the Nation, the Supreme Guide, The Master Hunter, for the biggest challenge of his life: democratic election.The book has six sections, the vigils, and each of has a theme, which makes the book structurally very clear and easy to follow despite the otherwise quite anecdotal kind of narrative.It starts with Koyaga's background and pre-history, his parents' stories. The second vigil is about his life from childhood to the start of the days of his power, to the day of the coup d'état.The third vigil detours a bit, it is about Macledio, his closest minister, but it is stated it is important to know Macledio's travels and life to understand that of Koyaga's, for Macledio "can obliterate the distinction between truth and lies and carry out the master's every whim for thirty years."The fourth one is about Koyaga's dictatorial initiation. He visits a few of the many African dictators -- Africa "is as rich in them as it is in vultures" --, "the other saviours of the world", for educational purposes. They give him most cynical advice, and he is an avid learner. After this he (and we) knows, for example, that true African chieftain must be the wealthiest man of his country, and to achieve that he must not make any distinction between his property and the treasury of the state; that prison is the most important institution in an African one-party state; etc etc ... this is the weakest part of the book in my opinion, chilling in the content, but a little repetitive.The fifth vigil is about staying in power and about betrayal, which come hand in hand to an African Leader (Supreme Guide, Father of the Nation, you know). "Your enemies will not betray you, so keep an eye on your friends." Attempts of assassination come two or three a year, and each time Koyaga survives, he stands up bigger and stronger, his myth grows more mythical.But all things come to an end some time. The cold war ended, and neither the West nor the Communist Camp did need Koyaga or his colleagues in Africa any more. No more money, no more weapons, no more honorary doctorates or visits from the heads of states of the West. Koyaga does not give up, though: the world may change, the words may change---for democracy is nice word---but he will not. May the election come, and if the people will not vote (him), the wild beasts will for he is The Master Hunter. This is what this book is about, the feast of six vigils.The first half of the book is excellent and the rest of it good. Bingo, the sora, puts it just right in one his many proverbs: "Once you have said that the anus of the hyena smells bad, you have said it all." Kourouma tries to say a lot more, though, and at some point it becomes too much, it overflows. Yet this is an important and interesting book (or Important and Interesting :) ... cruel, brutal, sad ... magical and probably too true.
Review by kidzdoc
16/06/2015
This is a satirical novel about a fictitious African dictator, which interweaves myth with colonial and postcolonial history and a brutal sense of humor. I thought it was about 200 pages too long and overly repetitive, particularly in its weaker second half. A much better satirical novel about dictatorship in Africa is "Wizard of the Crow" by Ngugi wa Thiong'o.
Also by Ahmadou Kourouma