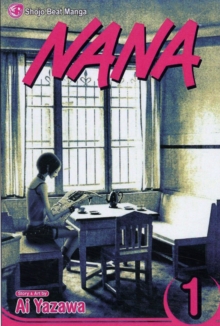 Nana, Vol. 1
Paperback
Part of the Nana series
Description
Nana Komatsu is a young woman who's endured an unending string of boyfriend problems.
Moving to Tokyo, she's hoping to take control of her life and put all those messy misadventures behind her.
She's looking for love and she's hoping to find it in the big city.
Nana Osaki, on the other hand, is cool, confident and focused.
She swaggers into town and proceeds to kick down the doors to Tokyo's underground punk scene.
She's got a dream and won't give up until she becomes Japan's No. 1 rock'n'roll superstar. This is the story of two 20-year-old women who share the same name.
Even though they come from completely different backgrounds, they somehow meet and become best friends.
The world of Nanais a world exploding with sex, music, fashion, gossip and all-night parties.
Information
Format: Paperback
Pages: 192 pages
Publisher: Viz Media, Subs. of Shogakukan Inc
Publication Date: 06/12/2005
Category: Manga
ISBN: 9781421501086
Free Home Delivery
on all orders
Pick up orders
from local bookshops
Reviews
Showing 1 - 5 of 5 reviews.
Review by bostonbibliophile
16/06/2015
Bittersweet and very appealing manga about two women named Nana- their lives, loves and their friendship. Vol 1 introduces the two women; they meet each other later. Vol. 1 can stand by itself as a sweet set of short stories. Very good.
Review by 4sarad
16/06/2015
Nana is the story of two girls named Nana, both of whom are going through large changes in their lives as they grow older. Nana Komatsu's boyfriend moves to Tokyo for work and she is left alone to pick up the pieces as she starts art school. She realizes she has hopped from one boyfriend to another over the last few years and vows to concentrate on friendship instead of love. Nana Osaki, on the other hand, is a rock singer whose boyfriend moves to Tokyo to play guitar with a more successful band. She decides to stay where she is and work on her own singing instead of following him and giving up her own future with her band. The story moves quickly and is fun to read. The characters are often very funny, especially Nana Komatsu who tends to either burst into tears or scream in nearly ever scene. The drawings are a little rough and it is at times hard to tell who is speaking, but it was nice to see the characters' expressions and actions while enjoing the story.
Review by senbei
16/06/2015
A fabulously refreshing read. Overall Nana is full of solid story lines and great themes with Yazawa's special blend of punk rawk. The English Adaptation feels, err... liberal, but there's no sense in blaming Yazawa-sensei for it.
Review by kornelas1
16/06/2015
A train screeches to a halt in the Japanese countryside, causing a young girl to stumble and fall into the lap of another. After apologies the chance of the empty seat is seized upon and the girls begin to converse. Soon they realize that they both share the same name, Nana, and are roughly the same age, headed to the same destination, Tokyo, to chase their dreams. Nana Komatsu is a small-town girl with big dreams, eager to meet up with the rest of her friends who previously moved to Tokyo, full of energy and cheer. Nana Osaki reads like a foil, intense, crafty, and quiet, her intention is to conquer Tokyo by starting a band and becoming a big name in the industry by any means necessary. After the introductions, the story switches to a frame narrative with Komatsu addressing an absent Osaki, and rewinds to tell the story of the two girls from the beginning. This volume sets up a sprawling epic encompassing the peculiar friendship that can blossom between girl friends, and the trials that must be overcome as young girls grow into strong, independent women making their way in the world. The manga is equal parts gut-busting humor and soul-crushing tragedy, which blend together seamlessly to present a natural glimpse into young adulthood. Recommended for purchase.
Review by photonegative
27/08/2015
This volume is very much an introduction, focusing on the lives of the two main characters prior to their moves to Toyko and the intersection of their lives that the back cover has promised me. I didn't care for Nana Komatsu for most of her story, but I think she showed some real growth towards the end, and I'm looking forward to seeing how her character progresses as she gets to the big city. I feel like I barely even got to know Nana Osaki, and that so much of her chapter was taken up by Nobu and Ren. Still, it was by no means terrible, and I've heard such good things about the series as a whole that I'm willing to overlook a somewhat weak prologue and will soldier on through a few more volumes before making final judgement calls.