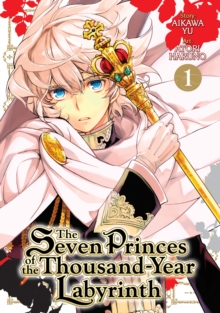 Seven Princes of the Thousand Year Labyrinth : Vol. 1
Paperback / softback
Description
The Seven Princes in the Thousand Year Labyrinth is an all new fantasy manga series about a group of young men struggling to survive in a mysterious labyrinth full of traps and secrets.
The highly detailed artwork, suspenseful storytelling, and attractive male cast makes this a perfect series for fans of Devils & Realist and Black Butler.
The Seven Princes in the Thousand Year Labyrinth is an ongoing manga series that will be released as single volumes.
Each volume will include at least one insert in each book.
A young man, Ewan Juno, awakens to find himself imprisoned in an unknown place, surrounded by stone walls and seemingly endless corridors.
Ewan learns that he is one of a group of individuals, all sent to this strange place - the Thousand Years Labyrinth.
Each of them is a candidate to become the country's next emperor, however only one can claim the crown.
If, as a group, they do not decide, the title will fall to the last man standing, and it appears the labyrinth has methods of its own to achieve that end. A series of puzzles, trials, and deadly traps stands between life and death, and appears to mimic an old legend about an emperor and his seven lords - who were all lost in the very same maze.
Will the chosen candidates find a way out or will the labyrinth claim another seven princes in its search for an emperor?
Information
Format: Paperback / softback
Pages: 180 pages, illustrations
Publisher: Seven Seas Entertainment, LLC
Publication Date: 28/12/2016
Category: Manga
ISBN: 9781626923775
Also by Aikawa Yu