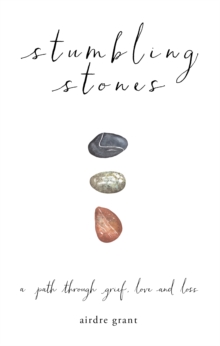 Stumbling Stones : A Path Through Grief, Love and Loss
Hardback
Description
This book is a beautifully written exploration of grief and loss.
Thought-provoking, often poetic, Stumbling Stones is a stunning piece of writing that will stay with you.
Everyone encounters grief and loss in their lives, yet we are curiously ill-equipped to deal with it, to manage our own grief and to feel comfortable around the grief of others.
We view these events as painful and to be avoided yet they are inevitable and offer much to enrich the soul.
They are not easy and occur in many forms. Not all loss is about death. Loss can mean loss of vitality, health, a partner, a pet, dreams, loss of a relationship or children leaving home.
Disappointment is a key element of grief. This is a much under-recognised emotion that can govern how a person operates in the world.
Stumbling Stones offer strategies, stories and case studies that aim to help people traverse the landscape of loss and grief, to provide support through these inescapable and often painful transitions.
In one year the author lost a long term relationship, and then, after another, her cat, dog, father and twin brother died. "I felt that I was made of straw. When it happened, and kept happening to me, I found that many people didn't know how to be around me, some drew close, others ran as far away as possible as if pain was contagious.
Some treated me like cut glass and others expected me to buck up and get on with it, "throw yourself into work!" they offered.
But I was unfit for work, and offered poor company. I undertook a pilgrimage to the island of Iona in Scotland and to the Himalayas, looking for solace, consolation and insight.
I also wanted to go far away to lick my wounds and to heal in private.
I drew solace from strangers and dramatic landscapes.
I needed time to reconstruct myself and contemplate deeply how grief affected me personally and how it awkwardly it impacted on people around me.
I wanted to draw strength and wisdom from the tough lesson I was learning." The tone is of wisdom and wry, hard-won understanding.
The stories are of lessons learned, people met and how grief and loss don't go away, how everyone has a tale of sorrow and woe.
How we all stumble, ragged and uncertain on the path of pain and renewal.
How landscape, animals and strangers help. Somehow it's possible to gain strength and insight and to know that the grief will always be there but to not be defined by loss, like Mrs Havisham presiding over her cobwebby wedding cake.
Praise for Stumbling Stones: "It's a beautiful, sad and important little book because it succeeds in making hallowed the grieving process" - Jane Campion, Film Director
Information
Format: Hardback
Pages: 128 pages, Text with line illustrations
Publisher: Hardie Grant Books
Publication Date: 01/02/2016
Category: Memoirs
ISBN: 9781743790571
Free Home Delivery
on all orders
Pick up orders
from local bookshops