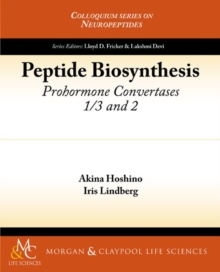 Peptide Biosynthesis : Prohormone Convertases 1/3 and 2
Paperback / softback
Description
The prohormone convertases (PC) 1/3 and 2 are calcium-activated eukaryotic subtilisins with low pH optima which accomplish the limited proteolysis of peptide hormone precursors within neurons and endocrine cells.
In this lecture, we review the biochemistry, regulation, and roles of PC1/3 and 2 in disease, with an emphasis on the work published in the last 10 years.
In the 20 years since their discovery, a great deal has been learned about their localization and cellular functions.
Both PCs share the same four domains: the propeptides perform important roles in controlling activation and targeting; the catalytic domains confer specificity, with PC1/3 possessing a more restricted binding pocket than that of PC2; the P domain is required for expression and contributes to enzymatic properties; and the C-terminal tail assists in proper routing to granules.
PC1/3, but not PC2, exists in full-length and C-terminally truncated forms that exhibit different biochemical properties.
Both enzymes associate with binding proteins; proSAAS is thought to modulate precursor cleavage by PC1/3, while co-expression of 7B2 is obligatory for the formation of active PC2.
Finally, new studies have revealed an increasingly important role for PC1/3 polymorphisms and mutations in glucose homeostasis and obesity.
Information
Format: Paperback / softback
Pages: 112 pages
Publisher: Morgan & Claypool Publishers
Publication Date: 30/12/2010
Category: Chemistry
ISBN: 9781615043644
Free Home Delivery
on all orders
Pick up orders
from local bookshops
Also in the Colloquium Series on Neuropeptides series | View all