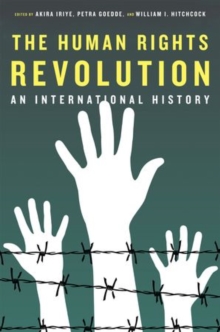 The Human Rights Revolution : An International History
Hardback
Description
The third volume for the OUP/National History Center series, Reinterpreting History, this book offers a critical look at the political movement encompassed by human rights, a term rarely used before the 1940s. An agenda for human rights, with particular attention to international justice in the wake of crimes against humanity, women's rights, indigenous rights, the right to health care, all developed in the second half of the 20th century. Drawing on the work oflegal scholars, political scientists, journalists, activists, and historians, human rights as a field of research has been characterized by analysis of natural rights, study of key documents like the UN Universal Declaration of Human Rights, discussion of activism and NGOs, and analysis of rhetoric. This volume will take a case study approach that will shed light on different perspectives, methodologies, and conceptualizations for the study of human rights history. The contributors to this volume look at the wave of human rights legislation emerging out of World War II, including the UN Declaration of Human Rights, the Nuremberg trial, and the Geneva Conventions, and the flowering of human rights activity in the 1970s and beyond, including anti-torture campaigns and Amnesty International, Indonesia and East Timor, international scientists and human rights, and female genital mutilation.
The book concludes with a look at the UN Declaration at its 60thanniversary.
Together the group of renowned senior and junior scholars create a volume that can introduce students from a range of disciplines to this topic, as well as offer new perspectives for scholars.
Free Home Delivery
on all orders
Pick up orders
from local bookshops
Also in the Reinterpreting History: How Historical Assessments Change over Time series | View all