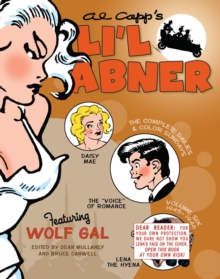 Li'l Abner The Complete Dailies And Color Sundays, Vol. 6 1945-1946
Hardback
Description
Beware, readers, beware! Amidst such buxom beauties as Daisy Mae, Wolf Gal, and Moonbeam McSwine, nothing can prepare Abner-or you!-for (*choke*) Lena the Hyena, the woman so hideous, so frightening, that men literally leave their country to avoid her face.
When Fearless Fosdick cartoonist Lester Gooch plans to bring Lena from Lower Slobbovia to America, it sets off a fantastic chain of events that ropes in Boris Karloff, Frank Sinatra, and Salvador Dali!Meanwhile, super-jinx Joe Btfsplk returns-but the way trouble follows Li'l Abner around, it's as if Joe never left!
When Dogpatch's most eligible (and reluctant!) bachelor falls for the man-crazy Prudence, Daisy Mae enlists top radio stars such as Sinatra and Kate Smith to sing "Li'l Abner, Don't Marry That Girl!" Abner then has a close shave with diva Barbara Seville, chews the fat with Wolf Gal, turns Sadie Hawkins Day into a pipe dream for fans of Moonbeam McSwine, and then rustles up six thousand ham sangwidges to save Dogpatch from the terrible turnip termites. The complete comics from 1945 and 1946.
Information
Format: Hardback
Pages: 272 pages
Publisher: Idea & Design Works
Publication Date: 01/04/2017
Category: Cartoons & comic strips
ISBN: 9781613778197