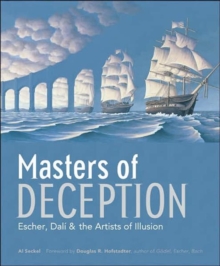 Masters of Deception : Escher, Dali & the Artists of Optical Illusion
Paperback
Description
This work contains rings of seahorses that seem to rotate on the page, and butterflies that transform right before your eyes into two warriors with their horses.
These dazzling and often playful artistic creations manipulate perspective so cleverly that they simply outwit our brains: we can't just take a quick glance and turn away.
From Escher's famous and elaborate "Waterfall" to Shigeo Fukuda's "Mary Poppins," where a heap of bottles, glasses, shakers, and openers somehow turn into the image of a Belle Epoque woman when the spotlight hits them, these works of genius will provide endless enjoyment.
Information
Format: Paperback
Pages: 320 pages
Publisher: Sterling Publishing Co Inc
Publication Date: 01/08/2007
Category: Art forms
ISBN: 9781402751011
Free Home Delivery
on all orders
Pick up orders
from local bookshops
Reviews
Showing 1 - 5 of 5 reviews.
Review by mschaefer
16/06/2015
A beautiful collection of art based on optical illusions. Includes more contemporary than classical work (though Escher is covered). Not all the artists have been able to go beyond Escher or find an independent path, but most of the artwork in this book is quite stunning.
Review by AJ25
16/06/2015
I borrowed this book from my library on a Saturday, read the foreword, introduction and first chapter, stopped and returned it monday morning. Because on Sunday I tracked this book down and bought it. Every chapter focuses on a different artist who uses some sort of illusion in their work, not just painters but sculpters as well. Every artist is distinct, but all are equally brilliant. Even the foreword is interesting. But don't take my word for it, find it and read it yourself (or just look at the pictures). Go!
Review by bragan
16/06/2015
When I was a kid, we had a set of books from Childcraft, each volume of which focused on a different topic in the sciences or the humanities in a kid-friendly fashion. I loved those books immensely, but the one on art and art history I found less interesting than most of the others, with one notable exception: the chapter featuring M. C. Escher and Salvador Dali. I remember starting at those pictures for what seemed like hours, then coming back repeatedly and staring at them again. And the longer I looked, the more I seemed to see, and the more fascinated I was. Well, my tastes in art might possibly have matured slightly since I was eight, but they really don't seem to have changed that much. Unsurprisingly, then, I <I>really</I> enjoyed this book showcasing the work of Escher, Dali, and eighteen other artists. They vary quite widely in technique, style, and medium, but all of them enjoy playing with human perceptions in various clever ways, so it's full of visual paradoxes and ambiguities. There are illusions, impossible perspectives, images that look different from different angles or at different scales, shapes that morph and change their meaning , and all manner of other trickery, ranging from the purely technical to the indisputably artistic. Some of the illusions employed here were familiar enough to me that I no longer find them terribly interesting, but other images made me laugh or gasp as their hidden secrets suddenly popped out at me, which is rather wonderful. I think I've also discovered an instant new favorite artist in Rob Gonsalves, whose work can be seen gracing the front cover.As well as lots and lots of pictures, the book also features a few pages of text on each artist, including a brief biography and description of their work, usually along with a few quotes from them. These are generally well done, I think, telling us just enough to enhance the experience of viewing the pictures, but not enough that it becomes tedious. Unfortunately, there seems to have been some kind of formatting or editing issue, at least with the copy I have, and a few pages scattered through the book are missing a line of text at the bottom, which is an annoying blemish on an otherwise extremely well-produced book.
Review by pratalife
16/06/2015
A book I can come back to time and time again, to spend many hours totally absorbed in the intriguing, surprising and entertaining illusions by the many masters of deception.
Review by pratalife
16/06/2015
A book I can come back to time and time again, to spend many hours totally absorbed in the intriguing, surprising and entertaining illusions by the many masters of deception.
Also by Al Seckel