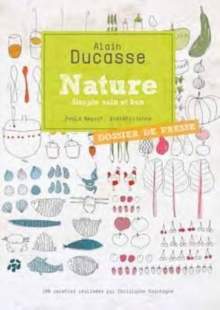 Description
When people think of French food, they often imagine laborious recipes that are loaded with butter and cream, and which can only be mastered with the skills of a sous chef.
In , Michelin-starred chef Alain Ducasse, in collaboration with nutritionist Paule Neyrat, rediscovers the pleasure of simple food, and presents delicious French cuisine without the fat or the fuss.
With over 190 easy-to-make creations, Ducasse shows the subtle wonders of a wide range of delectable flavours, giving pride of place to fruit, vegetables and cereals, which are sure to leave you feeling great.
Featuring delightful line drawings, mouthwatering food photography, and with Alain's useful snippets of advice peppered throughout the book, Ducasse Nature is more than a recipe book: it shows another way to enjoy food that is more natural, healthy and delicious.
Information
Format: Hardback
Pages: 360 pages, 200 illustrations
Publisher: Hardie Grant Books
Publication Date: 01/09/2011
Category: Health & wholefood cookery
ISBN: 9781742700502
Free Home Delivery
on all orders
Pick up orders
from local bookshops
Reviews
Showing 1 - 1 of 1 reviews.
Review by MarthaJeanne
16/06/2015
This is a cookbook to read, and to borrow ideas from, but not really to use, and certainly not for a beginner. Already reading this cookbook I was unhappy that the ingredients are listed separately (They are printed in a different colour in the body of the recipe.) In trying to use the cookbook I first discovered that there is no index. Then Mom saw a recipe for a pizza based on zucchini rather than tomatoes and I decided to try it. Final verdict: The zucchini sauce as the basis for a pizza worked a lot better than you would think. I would make this again. However the cookbook itself is destined to not stay on my bookcase for long. Many of the recipes call for rather exclusive ingredients - the 'simple' in the subtitle is as in 'simply the best'. If your local store or your wallet don't run to truffles, wild boar, special cheeses, chestnut flour,... you will find many of the recipes unusable. And because there is no index you can't even use it to look up what to do with them if you do get them.The directions take a lot for granted, and amounts are somewhat funny. The pizza gets put into the oven, but I didn't find a temperature to heat that oven to. I guess it should have been warmer. This recipe was to serve 4-6. I made double the dough and used more or less the single amounts of everything else. Three of us had plenty to eat, but no leftovers. Another time I would use 3-4 times the amount of dough, double the amounts for the sauce, and the amounts called for for the toppings. That would balance better (I didn't manage to balance all the zucchini rounds on the pizza.) and leave some for breakfast the next morning.