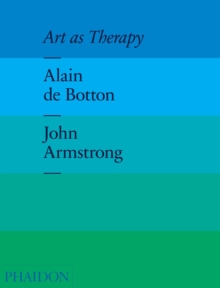 Description
There is widespread agreement that art is 'very important' - but it can be remarkably hard to say quite why.
Yet if art is to enjoy its privileges, it has to be able to demonstrate its relevance in understandable ways to the widest possible audience.
Alain de Botton and John Armstrong have a firm belief that art can help us with our most intimate and ordinary dilemmas, asking: What can I do about the difficulties in my relationships?
Why is my work not more satisfying? Why do other people seem to have a more glamorous life?
Why is politics so depressing?The purpose of this book is to introduce a new method of interpreting art: art as a form of therapy.
It's the authors' contention that certain art works provide powerful solutions to our problems, but that in order for this potential to be released, the audience's attention has to be directed towards it in a new way (which they demonstrate), rather than towards the more normal historical or stylistic concerns with which art books and museum captions are traditionally associated.The authors propose that the squeamish belief that art should be 'for art's sake' has unnecessarily held back art from revealing its latent therapeutic potential.
This book involves reframing and recontextualising a series of art works from across the ages and genres, so that they can be approached as tools for the resolution of difficult issues in individual life.
Information
Format: Hardback
Pages: 240 pages
Publisher: Phaidon Press Ltd
Publication Date: 14/10/2013
Category: Theory of art
ISBN: 9780714865911
Free Home Delivery
on all orders
Pick up orders
from local bookshops
Reviews
Showing 1 - 2 of 2 reviews.
Review by janglen
16/06/2015
Alain de Botton and John Armstrong have received a lot of flack over this but I enjoyed the book. Sometimes I agreed with them, sometimes I did not, but I always found them thought provoking. I found it useful to view art from an entirely new perspective, and the book has certainly extended my understanding of the subject.
Review by Chatterbox
16/06/2015
This book really, really annoyed me. If Alain de Botton finds the current art world snotty and elitist (he never comes out and says it, but it's heavily implied) I find his alternative suggestions range from the laughable to the downright bizarre. They also are likely to be seen as equally patronizing in a very different way. That's because when it comes down to it, what de Botton completely ignores, overlooks or fails to understand is that the relationship between a work of art and an individual is a personal one. Ergo, some kind of "top down" approach, in which museums and galleries opt to encourage art that tries to develop empathy or understanding, or other such therapeutic approaches, is going to be doomed to failure anyway. Even if it weren't, the idea of commissioning works to evoke certain feelings is ludicrous. Why does he imagine we'd end up with anything different than what we have in popular culture? I tend to agree with some of his assessments, for instance that the pendulum may have swung too far in the direction of deferring to artists in the determination of what becomes art. But the idea that "we abandon to chance the hope that our key needs will be covered by the unstructured and mysterious inspiration of artists" is simply bollocks. There's this little thing called the market. If artists aren't creating things that buyers can respond to, those objects won't sell. The patron doesn't need to be able to "direct" the art in order to determine the outcome. He or she simply can keep their wallet shut unless and until they identify a a piece that they respond to. (Alternatively, they can find an artist whose work they admire and, yes, commission a specific piece: it happens quite frequently...) Nor, I'd suggest, is it always desirable that we do direct art, as de Botton so glibly suggests might be wise. Yes, the Catholic church created some great art, but great art was born in rejection of it, too. And more great art was born in opposition to the agendas of those who tried to "shape" art in society's interest than in response to it. Repeatedly, de Botton misunderstands the art market: he argues that people buy art solely because of the "brand name". That may be so for some collectors, but almost invariably, if you talk to collectors (as I've done, as a journalist writing about the topic) they have a tremendous passion for certain artists and kinds of work (like hedge fund manager Dave Ganek and photography). Similarly, there are big brand names whose works the biggest galleries and auction houses struggle to shift: early "dark" works by van Gogh (people will buy "Potato Eaters" canvases, should they become available, ONLY because of the brand name, and some gloomy works by Lucian Freud have remained unsold at high-profile auctions.) Regardless of how big the brand, there are some things nobody wants in their homes. Again, that pesky personal connection. I agree with de Botton that a plain vanilla label on a resurrection scene from a triptych, with Jesus visiting Mary that deals only with the work's art historical and historical importance is skimpy. But what would you make of one that had none of that detail, and instead told you that the scen was one of a "loving mother-son relationship" "that does not avoid conflict or grief... They do not embrace. He will soon leave. ... The picture makes the claim that such moments of return (and of survival), though fleeting and rare, are crucially important in life. It wants men to understand -- and call their mothers." Nothing about the centrality of these scenes in Christian iconography -- it's completely dissociated from its context. Nothing about the piece's history (it once belonged to Isabella of Castile) or why we're looking at this rather than some other representation of precisely the same scene (which has been reproduced thousands of times). Instead it suggests it's about guys who need to be in touch with their mothers. To me, that captured the problem with the book as a whole. That's the kind of epiphany that someone might well have while gazing thoughtfully at such a work of art. But is it an epiphany that anyone should be INSTRUCTED to have? Which is really what de Botton's alternative approach is suggesting. By all means, encourage people to ponder works of art with the aim of thinking about them in personal ways -- I think anyone who responds to art already does so. Will it make it easier for someone who doesn't find much to react to in, say, a Monet waterlily painting if it is displayed differently or he is told to think of it as a tool to calmness and an alternative to valium? In other words, this is a very deeply annoying book that does a disservice to any real understanding of art, art history, the art market and even the main subject -- the role that looking at art can have on an individual's ability to grapple with whatever the world throws at them. de Botton emerges from this as just as doctrinaire and prescriptive as the art world that he criticizes, and that critique is just another form of elitism cloaked in a thin veneer of populism.