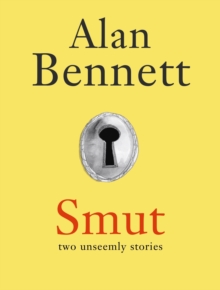 Smut : Two Unseemly Stories
Hardback
Description
The Shielding of Mrs ForbesGraham Forbes is a disappointment to his mother, who thinks that if he must have a wife, he should have done better.
Though her own husband isn't all that satisfactory either.
Still, this is Alan Bennett, so what is happening in the bedroom (and in lots of other places too) is altogether more startling, perhaps shocking, and ultimately more true to people's predilections. The Greening of Mrs DonaldsonMrs Donaldson is a conventional middle-class woman beached on the shores of widowhood after a marriage that had been much like many others: happy to begin with, then satisfactory and finally dull.
But when she decides to take in two lodgers, her mundane life becomes much more stimulating...
Information
Format: Hardback
Pages: 192 pages
Publisher: Profile Books Ltd
Publication Date: 07/04/2011
ISBN: 9781846685255
Other Formats
Paperback from £5.65
EPUB from £5.58
Free Home Delivery
on all orders
Pick up orders
from local bookshops
Reviews
Showing 1 - 3 of 3 reviews.
Review by Davidgnp
16/06/2015
It's probably fair to say that my rating for this book would be a little higher if I were reviewing a writer I am not familiar with, but as Alan Bennett is one of my favourite authors my expectations are proportionately greater, and 'Smut' does not not rate as highly as most in the corpus.'Smut' comprises two longish short stories about unconventional sexuality in apparently conventional domestic situations. The fulcrum of 'The Greening of Mrs Donaldson' occurs when a student couple, tenants of the widow Mrs Donaldson, suggest she might like to watch them have sex in lieu of unpaid rent. 'The Shielding of Mrs Forbes' turns on the blackmailing of Mrs Forbes' newly-married son by his gay lover, a corrupt policeman. The stories are comic, wittily written in the Bennett style - deceptively homely with acerbic twists and curtain-parting satire. They are proficient sketches by a master, without much depth or texture.And I think that's the trouble, really. The stories are slight. The characters (with the exception of the emergent Mrs Donaldson) do not grow much beyond caricature. Bennett offers us more than whimsy, but not a great deal more. There is not that much we can carry away beyond the simple pleasure we find in the telling; as we do having watched, say, a well-turned Ayckbourn farce. I found myself wondering whether there was enough here for these two stories (though they are complementary) to merit publication on their own.Sometimes you end a book wanting more for all the right reasons, having invested so much in the story and the characters that you are reluctant to leave them, want to be along for the rest of the journey or a new one, or because you have developed some new understanding as a consequence of reading the book, and want to reach for further enlightenment. Here, I wanted more because I felt vaguely dissatisfied despite my enjoyment of the experience as far as it went. I felt a bit like Peggy Lee when she sings, 'Is that all there is?'Reviewer David Williams writes a regular blog as Writer in the North.
Review by phollando
16/06/2015
In this rather slight volumes sit two charming stories of unexpected sexuality. The first story is 'the Greening of Mrs Donaldson' and deals with a recently widowed middle-classed woman who to earn some extra income on the side takes a job at the local hospital as a part-time demonstrator helping medical students with their diagnosis technique by feigning different physical and mental conditions and at the same time catching the eye of their professor. As she takes in a couple of students as tenants she finds herself in an interesting predicament as the rent cheques begin to dry up there is an offer to pay the arrears in kind.The Shielding of Mrs Forbes features another unorthadox sexual arrangement. Mrs Forbes has a handsome, eligible if not air-headed son called Graham and he is betrothed to a somewhat plain but extraordinarily intelligent woman. They would be set for a happy life if it weren't for the fact that Graham was a closeted homosexual whose extra-marital sexual encounters get him under the control of a blackmailing policeman.Both stories are about people pretending to be whom they are not and failing miserably at the task. Both stories lead to rather unexpected conclusions and the brunt of the humour is rather directed not at the named protagonists themselves but at the people around who are in on the secret.It's a slender volume and the stories are entertaining enough but it does leave me wondering if they were of sufficient calibre to justify individual publishing. I think Alan Bennett has reached the same level as Umberto Eco where anything he says or writes from now on will be snapped up and bound which is great if you're an avid fan eager for new material but it is no guarantor of continuing or consistent quality.
Review by Dickon.Edwards
16/06/2015
Two wry yet poignant novellas, one of which was published in the LRB, one brand new. Weird to see Alan Bennett characters using the internet and mobile phones, when AB himself famously has no computer - he uses a manual typewriter bought from a Bradford charity shop... <br/><br/>Enjoyed both, though they are more of the same sort of thing: an older lady discovers an unlikely new lease of life from a sexual 'arrangement' with her tenants to pay the rent, while another older lady is kept from knowing the truth about her gay son and her husband's affair with his daughter-in-law. The latter story is a bit more exciting, because there's a villain to defeat, one who wants to reveal all and tear the family apart. <br/><br/>If you're new to AB's fiction - which he himself started late in life, in the 1990s - I'd start with The Uncommon Reader, where these themes are applied to HM The Queen discovering a late love of reading. But these latest two are still vastly enjoyable.