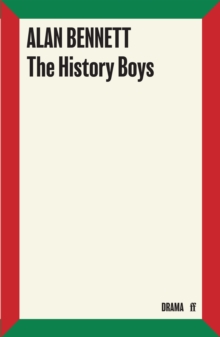 The History Boys
Paperback
Description
An unruly bunch of bright, funny sixth-form boys in pursuit of sex, sport and a place at university.
A maverick English teacher at odds with the young and shrewd supply teacher.
A headmaster obsessed with results; a history teacher who thinks he's a fool.
In Alan Bennett's new play, staff room rivalry and the anarchy of adolescence provoke insistent questions about history and how you teach it; about education and its purpose.
The History Boys premiered at the National in May 2004.
Information
Format: Paperback
Pages: 144 pages
Publisher: Faber & Faber
Publication Date: 17/06/2004
Category: Plays, playscripts
ISBN: 9780571224647
Other Formats
CD-Audio from £9.95
Paperback from £8.65
EPUB from £7.98
Free Home Delivery
on all orders
Pick up orders
from local bookshops
Reviews
Showing 1 - 5 of 11 reviews.
Previous | Next
Review by MikeFarquhar
16/06/2015
I missed seeing a performance of The History Boys in Nottingham by the slimmest of possibilities last month (had to cover a late shift at the last minute because a colleague was stricken with a weird mosquito carried bug that's currently plaguing India, and we had failed to get a locum in time), and I was gutted. Bennett's most recent play, which debuted in 2004, has gathered huge critical acclaim, commercial success and awards to its name, and I'd have loved to have seen it performed before I read it. However, I finally caved in and bought the script. There's a film version, with the original cast, due along this week, so it looks as if I'll experience it in two other media before seeing it performed live now.In the preface, Bennett describes how the play came to be written, and illuminates part of it with a slight autobiographical element, telling of his own experiences with getting into Oxbridge.The play itself is grand - a look at education and what it's for; at history and how we perceive it; and at how teachers affect those in their charge and vice versa. The plot is simple; eight sixth-formers in a modern grammar school in Sheffield in Thatcher's 80s are in preparation to take Oxbridge entrance exams (for it will reflect well on the school). Their teaching has been in the care of Hector, a relatively unorthodox English teacher nearing retirement age; the Headmaster, fearful that Hector's style of teaching will not produce the results he craves, introduces a new young History teacher, Irwin, to try and improve the odds. Hector believes in learning simply for the sake of it; Irwin that knowledge is simply a tool to achieve the best you can for yourself, and has no real intrinsic value – so in this context, everything is not about what you know, it's how best to twist it to make yourself stand out for the Oxbridge entrance vivas. Hector believes in the truth of knowledge; Irwin that it's OK to present the facts to suit your needs. The clash between the two is is epitomised nowhere better than the scene where Irwin exhorts a Jewish lad to make use of that in answering a question on the Holocaust, to give a shock answer safe in the knowledge that he can't be criticised because of his background, while Hector simply looks on aghast.Hector is not without his sins however; he's prone to fondling the boys when he gives them lifts home on his motorbike, something for which they seem to pity him rather than fear him. Bennett raises questions relating to this but doesn't really address it full on (in interview Richard Griffiths, who I can already imagine playing Hector to perfection, has pointed out that the boys are all over 18, which makes it not-quite-paedophilia-but-also-very-clearly-not-right, and that it never goes further than a sly grope – but it clearly plays into Bennett's themes of relations between teachers and pupils, and what is owed, and where boundaries should be)Bennett's skill has always been an ability to write realistic, perceptive and funny dialogue, and this is a fine example of him at its best. There are more than a few laugh out loud moments from the script (I suspect the French brothel scene will be even better when seen acted out) , and the themes behind it all are powerfully conveyed.It's a play that deserves to be quoted from often in the future, and I expect it will be. Irwin gets a speech to start the second act which stuck in my mind for a while.
Review by jwhenderson
16/06/2015
The award-winning play by Alan Bennett is a great read. More devoted to the influence of words (the "dictionary" boy role of Posner) and music than the later screenplay, the play emphasizes the differing perspectives on education of the two lead teachers (Hector and Irwin). Without the need to "open up" demanded by film Bennett focuses on the schoolroom and uses subtle effects to effect his dramatic purpose. In doing so he is successful in creating a delightful dramatic and comedic portrayal of ideas, all while evoking the spirit of bright young scholars at a key turning point in their lives.
Review by book_and_a_crumpet
16/06/2015
I can associate with nearly every single factor in the History Boys film. It is set in my home town; it is about the direction to be followed at this time of my life; it is about history students; it is about change. The book is not different. Apart from the fact it is better. The writing, whilst having a relatively narrow range of style for the different characters shines and the work comes into it's own. A brilliant book, and a brilliant story that I'm sure everyone can equate to in some way or another. Easy to read, easy to understand, and yet about something so confusing. A book the be savoured and re-read time and time again. Pass it on!
Review by elmyra
16/06/2015
Greatly enjoyed the movie, and the play is even better. Also found Alan Bennett's introduction interesting.
Review by amydross
16/06/2015
Read this in conjunction with seeing the movie. I think the cuts made may have actually been for the better -- the film seemed a bit subtler, less obvious in its "message". There is a great deal to love about this work -- the language, the setting, the characters -- but I take issue with its old-fogeyish suspicion of postmodernism.