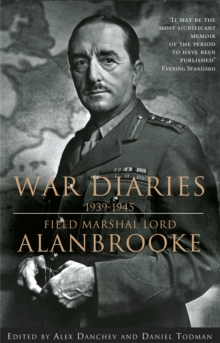 Alanbrooke War Diaries 1939-1945 : Field Marshall Lord Alanbrooke
Paperback
Description
The first complete and unexpurgated edition of the war diaries of Field Marshall Lord Alanbrooke - the most important and the most controversial military diaries of the modern era.Alanbrooke was CIGS - Chief of the Imperial General Staff - for the greater part of the Second World War.
He acted as mentor to Montgomery and military adviser to Churchill, with whom he clashed.
As chairman of the Chiefs of Staff committee he also led for the British side in the bargaining and the brokering of the Grand Alliance, notably during the great conferences with Roosevelt and Stalin and their retinue at Casablanca,Teheran, Malta and elsewhere. As CIGS Alanbrooke was indispensable to the British and the Allied war effort.
The diaries were sanitised by Arthur Bryant for his two books he wrote with Alanbrooke.
Unexpurgated, says Danchev, they are explosive. The American generals, in particular, come in for attack.
Danchev proposes to centre his edition on the Second World War.
Pre and post-war entries are to be reduced to a Prologue and Epilogue).
John Keegan says they are the military equivalent of the Colville Diaries (Churchill's private secretary), THE FRINGES OF POWER.
These sold 24,000 in hardback at Hodder in 1985.
Information
Format: Paperback
Pages: 816 pages
Publisher: Orion Publishing Co
Publication Date: 14/03/2002
Category: Biography: general
ISBN: 9781842125267
Free Home Delivery
on all orders
Pick up orders
from local bookshops
Reviews
Showing 1 - 1 of 1 reviews.
Review by Miro
16/06/2015
If ever a diary was written in the right place at the right time it was this one. Alanbrooke was the CIGS, Chief of the Imperial General Staff, and a right hand to Churchill throughout the war. He wrote his diary every day - even when exhausted or travelling and gives a unique first hand account of the top level WWII British and American military at work. This is the story before the arrival of the post war romantic myths, films and gloss.Essentially the Americans were more interested in the Pacific (exclusively in the case of Admiral King)and as their manpower and production outpaced the British they became the dominant decision makers. Marshall and Eisenhower are strategically clueless but are saved by the severely weakened state of the Germans in 1944/45. Churchill is a political showman like his father, building up British morale wonderfully at the start of the war but becoming a real military liability, pushing one madcap scheme after another in rambling alcoholic late night meetings. He was also very mean spirited, giving no credit whatsoever to his long suffering staff in his self serving histories. Typically, after the long awaited victory at El Alamein, it was of great concern that Montgomery should not receive a heroes welcome in London that could steal his (Churchill's) limelight. How many people know this side of Churchill? I certainly didn't.