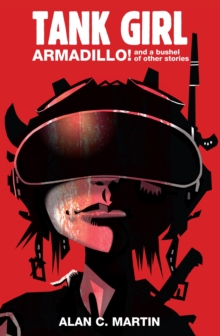 Tank Girl - Armadillo and a Bushel of Other Stories
Paperback
Part of the Tank Girl series
Description
She's back! Join everybody's favourite beer-swilling, chain-smoking, kangaroo-lurving lunatic as she embarks on her first 'proper' literary excursion.
Violence! Time travel! Midgets! Yes, tremble in fear at "Tank Girl: The Novel!" Tank Girl and Booga have launched an all-out assault on the town of Chankers, starting with the church.
But what prompted this attack? Could it have something to do with Booga's nightmare vacation there years ago?
Well, duh - whaddyou think?Destined to become a literary classic - y'know, like Watership Down or something - and a mainstay of school syllabuses, this is Tank Girl as you've never experienced her before: in attractively justified eight point serif.
Warning: Adults Only!
Information
Format: Paperback
Pages: 240 pages, colour comic strip
Publisher: Titan Books Ltd
Publication Date: 21/03/2008
Category: Comics and Graphic Novels
ISBN: 9781845764845
Free Home Delivery
on all orders
Pick up orders
from local bookshops
Reviews
Showing 1 - 1 of 1 reviews.
Review by AHS-Wolfy
16/06/2015
Sometimes you just find yourself in the mood for something raw, rude and crude and you can't get much more raw, rude and crude than Tank Girl. I have a vague recollection of the movie but not had exposure of the graphic novels. The main part of this book is the Armadillo! story which features Tank Girl, her boyfriend Booga (the half-kangaroo), Jet Girl and a few other assorted friends as they decide to take issue with the town of Chankers. Each of the team has an issue with at least one person from that place and Booga certainly didn't enjoy his time there with a bad work experience and gang time mostly memorable in his past dealings there. So they all decide the town could do with a good levelling but events don't exactly go to plan.Told in very short chapters (often of less than a page in length) interspersed with occasions of verse this makes for a very fast paced read. It is humorous and violent in equal parts so if you don't like the two mixed then this won't be for you.The second part of the book is taken up with some short stories, comic-book scripts and more of the verse as featured in the novel. There's also a brief interview with Tank Girl herself.All in all I enjoyed this book but it's not one I could recommend if you have an aversion to swear words. 3½?'s