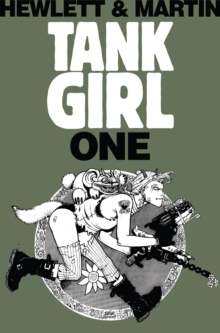 Tank Girl - Tank Girl 1 (Remastered Edition)
Paperback
Description
From the depths of the outback she charges, astride her fabulous tank!
It's...Tank Girl.Join everybody's favourite beer-swilling, chain-smoking, kangaroo-worrying lunatic as she blitzes her way through a dazzling array of bizarre adventures, including bounty hunting, delivering colostomy bags to Australian presidents, kangaroo boxing...and many more outrageous and mind-warping thrills!Marking the 20th anniversary of "Tank Girl", with a new introduction from Alan Martin, and previously unseen material from Jamie Hewlett, this is the first in a series of ultimate collections.
Presented for the first time in chronological order and in glorious black and white - as nature intended!
Warning: Adults only!
Information
Format: Paperback
Pages: 136 pages, colour comic strip
Publisher: Titan Books Ltd
Publication Date: 07/02/2009
Category: Comics and Graphic Novels
ISBN: 9781845767570
Free Home Delivery
on all orders
Pick up orders
from local bookshops
Reviews
Showing 1 - 1 of 1 reviews.
Review by andreablythe
16/06/2015
This "remastered" version presents the Tank Girl series in its original black and white and in chronological order of when they first appeared.Tank Girl is the mutated child of Madonna and GI Joe, living in an apocalyptic Aussie outback with a few teenage mutant punk rock kangaroos thrown in. While the author and artist claim to have created this comic in rebellion against the pathos of MTV, the truth is Tank Girl could only have come out of that generation (late 80s, early 90s). It's short episodic pieces, laced with pop culture and zany antics would have been right at home with the other animated shows appearing on that channel an others during that time period. It's all about spectacle and objectification an wackadoodle encounters. Many of the stories only barely make sense, if they even bother with sense at all, and there is little to no character development. Event flashes to event like a series of quick paced music videos (though there seems to be a tiny bit more cohesion toward the end of the book and you can see how the creators gained skill). The art is frantic and detailed, sometimes with so much going on its hard to know where to look, but it's fun to look at.Tank Girl is a representation of Girl Power as much as Spice Girls was (though more punk rock than pop rock), half sexist exploitation even as she presents power. Nameless, Tank Girl is only Tank Girl. She, like all the characters within the comic, is entirely one dimensional. Never growing or changing (except in appearance and clothing), she is exactly as advertised, a tank driving, chain smoking, kangaroo kissing crazy woman wearing little more than a black bra and a devil-may-care smile. Absolutely fearless and with no ambition, she faces each bizarre challenge with a grin on her face. Half the time she's so busy doing here own thing, she's oblivious to the threats around her and gets out of sticky situations as much by luck as by any apparent skill (which other than her fearlessness and recklessness, I'm not sure she has).In a sense, I love Tank Girl, because she allows me to live vicariously. I always wanted to be that person, with crazy dyed and wacky cut hair, adorned with chains and safety pins and vibrant colors, and sporting an I-don't-give-a-flying-f*ck-what-you think attitude. But I never had the courage and I still don't. She's fun and free of cares, which unfortunately means she leaves a slew of damage and death in her wake. There are never any consequences for this; Tank Girl lives in blissful chaos.That and the sexism are only minor concerns compared to how the black and aboriginal characters are handled. They are presented as caricatures, all with dreadlocks and big lips and often with tribal paint; one such character is a voodoo priest (even though that's not part of Australian Aboriginal culture as far as I'm aware), who actually says, "Ooga, ooga, ooga," while in the act of performing "magic." And it's just so racist. It doesn't happen often, but every time one of these caricatures appeared I cringed.*sigh* I like the<I> idea</I> of Tank Girl (and I even like the ridiculous movie adaptation), but I have a hell of a lot of reservations about aspects of it.