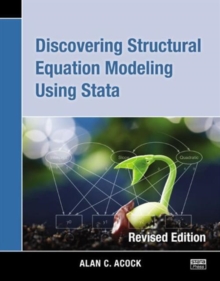 Discovering Structural Equation Modeling Using Stata : Revised Edition
Paperback / softback
Description
Discovering Structural Equation Modeling Using Stata, Revised Edition is devoted to Stata's sem command and all it can do.
Learn about its capabilities in the context of confirmatory factor analysis, path analysis, structural equation modeling, longitudinal models, and multiple-group analysis.
Each model is presented along with the necessary Stata code, which is parsimonious, powerful, and can be modified to fit a wide variety of models.
The datasets used are downloadable, offering a hands-on approach to learning. A particularly exciting feature of Stata is the SEM Builder.
This graphical interface for structural equation modeling allows you to draw publication-quality path diagrams and fit the models without writing any programming code.
When you fit a model with the SEM Builder, Stata automatically generates the complete code that you can save for future use.
Use of this unique tool is extensively covered in an appendix and brief examples appear throughout the text.
Information
Format: Paperback / softback
Pages: 306 pages
Publisher: Stata Press
Publication Date: 10/09/2013
Category: Psychological methodology
ISBN: 9781597181396