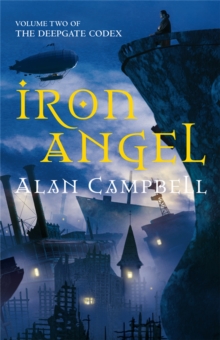 Description
Order has collapsed in Deepgate. The chained city is now in ruins, and the Deadsands beyond are full of fleeing refugees.
Meanwhile, the Spine militia is trying to halt the exodus of panicking citizens through brutal force.
Rachel and the young angel Dill are dragged off to the Temple torture chambers ...but strange things start to happen as a foul red mist rises from the abyss beneath the city.
For the god Ulcis' death has left the gates to Hell unguarded, and certain forces in the fathomless darkness beneath Deepgate have noticed an opportunity.
Only the offspring of the dread goddess Ayen understand this new danger.Already, Cospinol, god of brine and fog, is coming to save his brother's temple - and to hunt down Ulcis' murderers.
His foul, fog-wreathed skyship has already reached Sandport, bringing along its own version of hell.
By now, Rachel just wants to keep her companion alive.
Escaping their prison, and with enemies closing in on all sides, she is forced to undertake a perilous journey across the Deadsands towards the distant land of Pandemeria. But there the battlefield at Coreollis is fated to witness a clash of powers - a contest between men and gods and archons and slaves, all forced into desperate alliances.
Information
Format: Paperback
Pages: 500 pages
Publisher: Pan Macmillan
Publication Date: 01/04/2009
Category: Fantasy
ISBN: 9780330444774
Free Home Delivery
on all orders
Pick up orders
from local bookshops
Reviews
Showing 1 - 1 of 1 reviews.
Review by lewispike
16/06/2015
This is a book in three, fairly disjointed parts. It makes the connections eventually but it's quite hard work. That feeling is probably exacerbated by the fact that I had a cluster of migraines in the middle of reading this which really slowed me down.There are quite a few new bad guys introduced and it didn't feel like this book clearly carried on from where the last one ended either - which probably added to the disjointed feeling. Some of the new characters bring in interesting new information but the import of it is not really clear. Part of the disjointed nature as well, comes from the fact that it is really not clear who the good guys and who the bad guys are. There are hints at a lot of history but they are only hints and they're all from one side so far.I find quite a lot of the world quite interesting but the writing style is frustrating and stopping me enjoying the book.