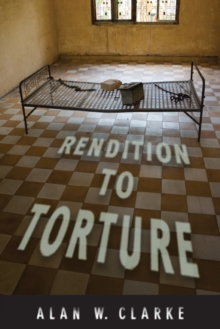 Rendition to Torture
Hardback
Description
Universally condemned and everywhere illegal, torture goes on in democracies as well as in dictatorships.
Nonetheless, many Americans were surprised following the attacks of 9/11 at how easily the United States embraced torture as well as the supposedly lesser evil of cruel, inhuman, and degrading treatment.
Nothing seemed extreme when it came to questioning real and imagined terrorists.
Extraordinary rendition-sending people captured in the "war on terror" to nations long counted among the world's worst human rights violators-hid from the public eye cruel and bloody interrogations. "Torture lite" or "torture without marks" became the norm for those in American custody. In Rendition to Torture, Alan W. Clarke explains how the United States adopted torture as a matter of official policy; how and why it turned to extraordinary rendition as a way to outsource more extreme, mutilating forms of torture; and outlines the steps the United States took to hide its abuses.
Many adverse consequences attended American use of torture.
False information gleaned from torture was used to justify the Iraq war, adding potency to the charge that the war was illegal under international law.
Moreover, European nations and Canada aided, abetted, and became thoroughly enmeshed in U.S.-led torture and renditions, thereby spreading both the problem and the blame for this practice.
Clarke offers an extended critique of these activities, placing them in historical and legal context as well as in transnational and comparative perspective.
Information
Format: Hardback
Pages: 248 pages
Publisher: Rutgers University Press
Publication Date: 15/04/2012
Category: Human rights
ISBN: 9780813552767
Free Home Delivery
on all orders
Pick up orders
from local bookshops