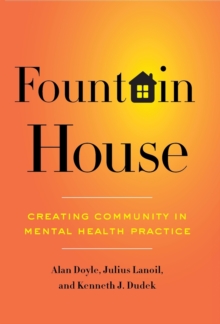 Fountain House : Creating Community in Mental Health Practice
Hardback
Description
Often people with mental illness feel alone in society, with no place to go and little hope.
Their isolation can be further perpetuated through typical approaches to treatment, such as case management and psychotherapy. Since 1948, the Fountain House "working community" has worked to address the isolation and social stigmatization faced by people with mental illness.
This volume describes in detail its evidence-based, cost-effective, and replicable model, which produces substantive outcomes in employment, schooling, housing, and general wellness.
Through an emphasis on personal choice, professional and patient collaboration, and, most important, "the need to be needed," Fountain House demonstrates that people with serious mental illness can not only live but also contribute and thrive in society. The authors also explore the evolution of Fountain House practice, which is grounded in social work and psychiatry and informs current strength-based and recovery methodologies.
Its inherent humanity, social inclusivity, message of personal empowerment, and innovation-a unique approach on behalf of people suffering from mental illness-have led to the paradigm's worldwide adoption.
Information
Format: Hardback
Pages: 216 pages, 6 B&W photos
Publisher: Columbia University Press
Publication Date: 12/11/2013
Category: Care of the mentally ill
ISBN: 9780231157100
Also by Alan Doyle