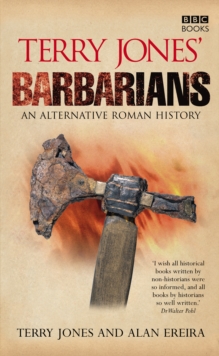 Terry Jones' Barbarians
Paperback
Description
Terry Jones' Barbarians takes a completely fresh approach to Roman history.
Not only does it offer us the chance to see the Romans from a non-Roman perspective, it also reveals that most of those written off by the Romans as uncivilized, savage and barbaric were in fact organized, motivated and intelligent groups of people, with no intentions of overthrowing Rome and plundering its Empire.
This original and fascinating study does away with the propaganda and opens our eyes to who really established the civilized world.
Delving deep into history, Terry Jones and Alan Ereira uncover the impressive cultural and technological achievements of the Celts, Goths, Persians and Vandals.
In this paperback edition, Terry and Alan travel through 700 years of history on three continents, bringing wit, irreverence, passion and scholarship to transform our view of the legacy of the Roman Empire and the creation of the modern world.
Information
Format: Paperback
Pages: 352 pages
Publisher: Ebury Publishing
Publication Date: 07/06/2007
Category: European history
ISBN: 9780563539162
Free Home Delivery
on all orders
Pick up orders
from local bookshops
Reviews
Showing 1 - 4 of 4 reviews.
Review by stillbeing
16/06/2015
A fun book, Barbarians gives a full-spectrum view of history from the bias of Non-Romans in the Western and Near-Eastern world - Terry Jones does for history what Michael Palin does for geography and John Cleese does for lemurs. Combining wit, up-to-date research and findings and historical texts, everyone gets a look-in from the Celts, Germans, Greeks, Persians, Goths, Huns and Vandals, and it also gives a wider social, economic, religious and historical perspective of the Romans from the start to the end of their civilisation. Although this book is sort of "arm-chair history", there are plenty of sources referenced and a good set of notes for further, more indepth reading at a later stage and it gave me a good basic understanding of a slice of history I'm not well-versed in.Definitely recommended for recreational fans of ancient history.
Review by bfgar
16/06/2015
Like most of us, I believed that Rome had brought the Pax Romana, peace and civilization to the countries it conquered. After reading Jones' book, I'm not quite sure. Jones makes an convincing argument that the reason it appears that Rome was a nice conqueror was because there hadn't really been any real research -- just everyone believing the Empire's self-aggrandizing propaganda. Now, it seems, there's been some interesting archeology done, some more precise readings of the great Roman historians, such as Tacitus. These paint an entirely different picture of just how barbaric the barbarians truly were. Great book. You should read it.
Review by petterw
16/06/2015
This is truly an alternative history book on the Roman Empire and her neighbours. Written with wit and with true passion for the idea that the Romans were all bad, it is surprisingly boring at times, because there is just too much information. Also the story is not told chronologically, so it is also hard to follow at times, because of the leaps in time. However, the authors have succeeded in changing my view on the times they are describing, and it has been truly interesting to learn more about the Vandals, the Huns, and not the least about the shamelessness and lack of compassion of the first Catholic Church. I am glad I have read Barbarians.
Review by Sean_RMIT
16/06/2015
This is a facinating look behind the officially accepted view of the Roman Empire. Its barbarity is well documented and yet the classical Romans have come to be seen as the accepted template for what we call civilized. Jones removes the veil and takes an interesting look at why the Romans were as much barbarians as those they themselves cast in this role. Certainly brings to mind modern comparisons between those considered terrorists and those casting them in this role.