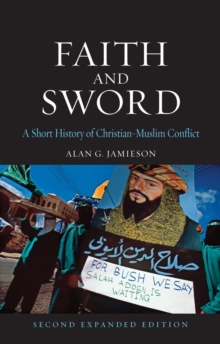 Faith and Sword : A Short History of Christian-Muslim Conflict
Hardback
Description
Faith and Sword gives a concise history of what has arguably been the longest conflict in human history - a conflict that continues, in a new form, to this day.
The overtly religious Christian-Muslim struggle lasted for nearly thirteen centuries, and for most of that period the Muslims were in the ascendant.
The Christians eventually halted the tide of Arab conquest, but their counterstroke in the Crusades ended in failure and the Muslim threat was renewed by the Ottoman Turks.
Only after 1600 did the Christians finally begin to gain the upper hand, with the fall of the Ottoman empire after the First World War seeming to mark the final victory of the Christians.
Between 1918 and 1979, however, the Christian-Muslim conflict continued, but in a less obviously religious form.
Christendom became the largely secularised West, and Muslim success in throwing off European colonialism owed more to secular nationalists than religious leaders.
After the Iranian revolution of 1979 the picture changed again: religious fundamentalism revived on the Muslim side and the USA became its principal target. Today the USA has never been more militarily dominant, yet it is rendered insecure by a tiny minority of religious militants whose outlook is said to have been superseded by the march of history.
Alan G. Jamieson provides a wide-ranging and detailed survey of this conflict through all its stages, and shows how the present situation has emerged.
He ranges widely in time, from the original Arab conquests in the seventh century to the present conflicts in Iraq and Afghanistan.
All areas of conflict are included, from Morocco to Indonesia, and from Russia to Somalia.
This authoritative and readable study will appeal equally to scholars, students and the general reader, giving an accessible introduction to one of the most important conflicts of our time.
Information
Format: Hardback
Pages: 224 pages
Publisher: Reaktion Books
Publication Date: 01/04/2006
Category: History of religion
ISBN: 9781861892720
Other Formats
Paperback / softback from £7.75
Also by Alan G. Jamieson