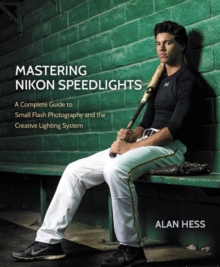 Mastering Nikon Speedlights : A Complete Guide to Small Flash Photography and the Creative Lighting System
Paperback / softback
Description
Mastering Nikon Speedlights is the most comprehensive guide available for anyone using or wanting to learn more about the Nikon Creative Lighting System (CLS).
Starting with an exploration of how to work with light, the book teaches you everything you need to know about understanding the direction and intensity of light, using light meters and metering modes, controlling exposure, and much more.
You'll learn the specifics of how to use the full range of Nikon Speedlights and accessories, including past and current models of cameras and CLS compatible flashes-and in the process you'll find out how to get the best shots with your gear, whether you have a whole box of equipment or just the basics. The book includes practical, real-world photo shoots-portraits, action shots, and product photography-starting with one light and gradually working up to multiple lights so you can observe the progression of the light from one flash to many.
No matter what your subject or shooting scenario, Mastering Nikon Speedlights is an essential resource that teaches you how to produce the light you need to achieve great results. Offers a thorough discussion of the qualities of light, how the camera measures light, and the settings needed to record an image with proper exposureProvides a complete overview of all the components that make up the Nikon Creative Lighting System, outlining how to use the different Speedlights and accessories to correspond with each camera's unique capabilitiesCovers how to use the Nikon Speedlights off the camera using the Advanced Wireless Lighting (AWL) features built into the Creative Lighting SystemFeatures several examples of real photo shoots, showing you how to take great photos in a variety of situations, building from one flash up to multiple flashes
Free Home Delivery
on all orders
Pick up orders
from local bookshops