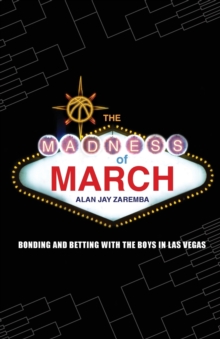 The Madness of March : Bonding and Betting with the Boys in Las Vegas
Paperback / softback
Description
Every spring, the first four days of the NCAA men's basketball tournament attracts a horde of basketball bettors to Las Vegas.
From the tip-off of the tournament's first game on Thursday morning to the final whistle on Sunday, throngs of bettors-overwhelmingly male-sit in smoky casinos obsessively watching as many as forty-eight college basketball games.
This book immerses readers in that action. In The Madness of March: Bonding and Betting with the Boys in Las Vegas, Alan Jay Zaremba travels to The Strip and gives us a front-row view of the betting culture that surrounds the frenzied first weekend of the tournament.
Alternating between humorous accounts of gamblers' exploits and cultural theories on sports in society, Zaremba provides an engaging analysis of the sporting ritual that such gambling has become.
With forays into the history of the tournament, the background of sports betting, and a little betting of his own, Zaremba raises the question of whether this subculture of March Madness is a blessing or a curse-and what, finally, it all means.
Information
Format: Paperback / softback
Pages: 242 pages
Publisher: University of Nebraska Press
Publication Date: 25/02/2009
Category: Basketball
ISBN: 9780803213838