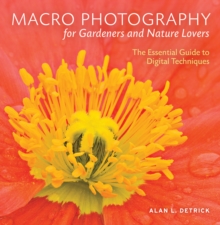 Macro Photography for Gardeners and Nature Lovers : The Essential Guide to Digital Techniques
Paperback
Description
Gardeners and nature lovers delight in taking pictures - especially close-ups of flowers, butterflies, and insects. And though advances in digital camera technology have made taking, storing, and sharing photos easier than ever, taking top-quality pictures requires familiarity with both digital technology and the general principles of photography. "Macro Photography for Gardeners and Nature Lovers" provides exactly the information that aspiring photographers - no matter their level of skill - need to take their photos to the next level.
Clear and concise chapters cover the basics of macro (close-up) photography, explain the features of current digital single-lens reflex cameras, show the many ways images can be composed, and share tips on digital effects, storage, and manipulation of imagery.Throughout the text, helpful tips, definitions, exercises, and case studies serve to demystify digital photography.
Each lesson is supported by examples of the author's stunning photography. Whether taking photos of flowers and insects, compiling a photographic record of your garden, or simply sharing beautiful images with friends and family, everyone can become accomplished photographers of the world's small-scale wonders.
Information
Format: Paperback
Pages: 176 pages, 171 color photos, 3 diagrams
Publisher: Timber Press
Publication Date: 22/10/2008
Category: Photographic equipment & techniques
ISBN: 9780881928907
Free Home Delivery
on all orders
Pick up orders
from local bookshops
Reviews
Showing 1 - 2 of 2 reviews.
Review by presto
16/06/2015
Written by a professional photographer and lecturer and instructor, and someone who is also clearly knowledgeable about plants, Macro Photography is a very informative publication. The term "macro" in this instance is taken at is loosest to encompass close-up photography as well as true macro. The book is divided into seven main sections which include an introduction to macro photography, the equipment needed, how to look at images, a section entitled `Realistic or Artistic?' and sections on photographing flora and fauna, digital files and handling. There is also a list of resources, a glossary and an index. The book sets out to reach both the experienced photographer and the novice, and here I feel it succeeds. The writer, having moved from traditional film photography to digital does well in explaining the differences and how this should affect ones approach. I found this particularly useful having myself been schooled, and schooled others, in the days of film photography. The technical aspects of macro photography are covered quite extensively and very clearly, and all are well illustrated by the superb pictures which accompany the text; a useful point here is that in addition to the coverage in the text each photograph is accompanied by its own explanation along with details of camera, lens and settings used. Of course when it comes to the more subjective area of "artistic" photography there is the possibility of disagreement. Yet the advice given here is sound, although there was the occasional point I would not always agree with; but that is only to be expected when one moves into such areas, and of course each is able to make his own decision, again the excellent pictures here can help one to decide. For example, where a blossom is too large to be in focus from front to back, Detrick suggests ensuring that the perimeter or outer edge is in sharp focus; the centre or closest part of the flower then being out of focus (pp74-75, Allium blossom). The theory being that the viewer notices the perimeter first and so decides that the picture is in focus. However the accompanying pictures used to illustrate the point I feel suggest the reverse; I find the blurred centre of the bloom worrying. I do not doubt that Detrick's theory works in principle, but maybe it just goes to show that there is no definite solution to every situation. Whatever one decides, the benefit of this book is that pictures tell the story, whichever way one wants to read it. Even as an experienced photographer I found this a most useful book; every aspect is adequately covered from advice on the equipment, how to use and get the best out of it, and how to compose, light and shoot the pictures. The possibilities of what can be done with photo editing software are also mentioned, but not discussed in detail. I am sure that whatever the level of knowledge the reader, one is bound to find this a very useful publication. Well illustrated with over 160 good size colour photographs.
Review by Tmtrvlr
16/06/2015
With one of the longest titles I have reviewed, I have a copy of Alan L. Detrick's Macro Photography for Gardeners and Nature Lovers, The Essential Guide to Digital Techniques. The book is as beautiful as it is informative. Macro Photography is printed on glossy paper and filled with striking pictures of flora and fauna. Mr. Detrick clarifies the difference between close-up photos and macro photography, and his instructions cover many different aspects of creating that perfect shot. Photography is not an inexpensive hobby. The vast selection of lenses and equipment is staggering. To do macro photography properly you need quite a bit of equipment and he gives a brief description of each. He also discusses how to travel with your gear. While this may be overwhelming for the casual photographer, for a dedicated hobbyist the information is essential. Even if you don't have all the equipment there is much to learn from this book. The photographs in the book are both beautiful and interesting. I especially appreciated that each description contains the type of camera used, lens and exposure information and many contain an explanation of why he shot it as he did. He shows the way he experimented with changing light in some of the shots. He also writes about possible problems with a photograph and how he adjusts to compensate. There is a good amount of information on proper exposure, depth of field, using the histogram, bracketing, focus, composition, background and movement. At the back of the book there is additional information on recommended reading, associations, workshops, websites and a glossary that I found especially useful. Macro Photography is a beautiful display book, but also so much more.