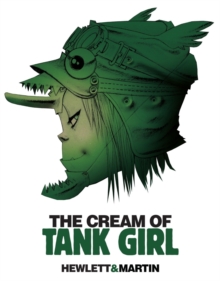 Tank Girl - Cream of the Tank
Paperback
Description
Spewing filth and fury since 1988, celebrate the 20th anniversary of Alan Martin and Jamie Hewlett's foul-mouthed, anarchic creation with "The Cream of Tank Girl"!Boasting tons of unseen artwork, rarely seen comic strips, every Jamie Hewlett "Tank Girl" cover ever, publicity posters, script samples and more besides, this is the ultimate guide to Tank Girl and her world!Bask in the glory of exclusive new commentary from writer Alan Martin!
Shiver with pleasure at the sight of rarely seen drawings by Gorillaz genius Jamie Hewlett!
Have a nice cup of tea whilst studying the recipe page!
Verily, "The Cream of Tank Girl" is a smorgasbord of Tank Girl-osity.
Information
Format: Paperback
Pages: 176 pages
Publisher: Titan Books Ltd
Publication Date: 01/10/2008
Category: Comics and Graphic Novels
ISBN: 9781845769420
Free Home Delivery
on all orders
Pick up orders
from local bookshops
Reviews
Showing 1 - 2 of 2 reviews.
Review by toxictoast96
16/06/2015
I am obsessed with Tank Girl but the book wasn't quite what I thought it would be. It was as much a history of the creators' careers and early attempts at other comics as it was about Tank Girl. The book became much more focused about half to 3/4 through when it got to the part about designing for the Tank Girl movie despite their hatred of what Hollywood did to it. Overall, it's good for obscure knowledge and some interesting art work at best.
Review by greeniezona
16/06/2015
Once upon a time, I saw the movie <i>Tank Girl</i>, and it was like nothing I'd ever seen before. I loved it. Eventually, I heard that it was based off of a comic, supposedly, but that it had diverged so far from the source material as to make the comic writers furious. Curious, over the years I collected the three TPBs of <i>Tank Girl</i>, which were definitely different. I continue to love both, but was always curious about what happened to split them.<br/><br/>This book doesn't really tell that story, but it does fill in a few missing pieces. Instead, it's a much broader history of the authors and the comic, but told in short bursts of text wedged between lots of art, including storyboards for an animation that never came to be, lots of design drawings for the movies, comic covers, and a side project comic about pirates.<br/><br/>I did like that it sort of explained why the second TPB was so all over the place. There is a lot of fun to be had in this art book.