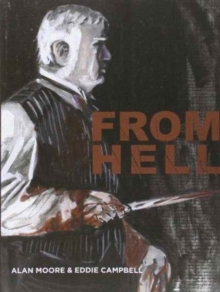 Information
Format: Paperback
Pages: 572 pages, 1 Illustrations, unspecified
Publisher: Knockabout Comics
Publication Date: 12/08/2000
Category: Comics and Graphic Novels
ISBN: 9780861661411
Free Home Delivery
on all orders
Pick up orders
from local bookshops
Reviews
Showing 1 - 5 of 10 reviews.
Previous | Next
Review by coffeesucker
16/06/2015
This book left me speechless - what a magnificent epic!
Review by stephmo
16/06/2015
To appreciate the need to tell yet another Jack the Ripper story, it may be best to flip to the back of <i>From Hell</i> and read Alan Moore's second appendix first. In it, he details an interesting history of how the legends of Jack the Ripper and the "true tales" have evolved since the murders were committed. He aptly describes it at one point as a "game of Bohemian Whispers" which gives him several advantages in the telling of his story. First, he can't be blamed if he gets facts wrong, secondly, his version is not necessarily any more right or wrong than anyone else's if one takes this position - something bolstered very much by the first appendix where Moore lays out that which is drawn from fact, that which was made up for narrative sake and that which was drawn from historical context.That being said, this is an incredibly compelling version of events. In an environment where the police procedural has more than embedded itself into the pop-culture cannon, there is one truth to getting away with murder - prostitutes are disposable. And this is what makes Jack the Ripper such a compelling tale; Mary Kelly has managed to spawn her own set of legends in addition to being the alleged fifth victim. Each of the other victims is named and remembered. While many killers have garnered similar attention, finding victims that have achieved this type of canonization is a rare thing - finding this amongst the poor and supposedly disposable in our society is a rarity. So when Moore finds a fantastic tale of Freemason conspiracy, a royal love affair and four women who chose to bribe the wrong man for ten pounds leading directly to the creation of Jack the Ripper, it suddenly makes sense. Even the fourth dimension bends a bit for our killer, bleeding through from the future to show that his actions will become part of the London psyche. Before one thinks that Moore is trying to present all of this as fact, there are good portions of the story devoted to those that were taken in by the hysteria of the day. Panels of random strangers writing letters to newspapers posing as Jack the Ripper are shown, police are shown dismissing key pieces of evidence, different investigators are brought in for political reasons - it's all there to demonstrate the basic human need to muck up an already limited ability to discover evidence after the fact. (For those that must really know blow-by-blow, the first appendix details where each story element, character and even some bits of dialogue were either found or when they were invented for each page.)Cambell's drawings deserve a lot of credit. The black and white varies in style throughout - from a scratched-ink-style to a softened-smudged style that resembles charcoal drawings. For even the most gruesome scenes, one is thankful to only have the black and white drawing - color would simply have been too much for the violence his drawing clearly conveys.
Review by RobProsser
16/06/2015
Moore's masterpiece.As much about the social history of 1880s London and Britaina as about Jack the Ripper. Brilliantly drawn by Eddie Campbell who superbly evokes the squalor and beauty of Victorian London. Moore;s notes at the end of the book are almost as intriguing. Be warned the authors pull no punches in the events depicted in the book. I'm luck enough to own the limited signed hardcover edition of this book and we'll never be parted!
Review by DoubleL
16/06/2015
not quite my bag, but absolutly astonishing in it's scope and the amount of almost fanatical detail and research poured into every last panel. i'd highly recomend it for anyone who is into true crime stuff, which i have a hard time with. it's a very disturbing book, gruesome in many places. but facenating. don't forget to read all the footnotes! they help!
Review by elenchus
16/06/2015
This edition compiles all installments along with 2 appendices: uncertain whether or not the appendices are typical of other editions, but they (esp the 1st, being source notes and commentary on the story / illustration as envisioned by Moore & Campbell) are as intriguing as any of the 16 serialised installments.The themes are compelling in their own right (Whitechapel murders symbolically ushering in the 20th century; Royal scandal and Victorian class politics; Masonic conspiracy; British mythology including London's symbolic architecture; an unflinching look at urban poverty), and are interwoven in such a way to build up a multilayered story.The art is deliberately and effectively raw, using the technical shortcomings of some images to advantage.Not as provocative or ultimately as satisfying an accomplishment as V for Vendetta, but well worth reading. I'm now curious to see the film, which up to now impressed me as a silly slasher film.