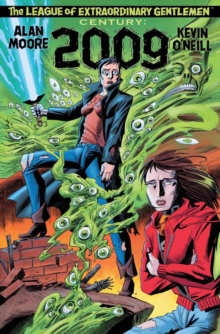 League Of Extraordinary Gentleman: Century 2009
Paperback
Information
Format: Paperback
Pages: 80 pages, 1 Illustrations, unspecified
Publisher: Knockabout Comics
Publication Date: 18/06/2012
Category: Fantasy
ISBN: 9780861661633
Free Home Delivery
on all orders
Pick up orders
from local bookshops
Reviews
Showing 1 - 3 of 3 reviews.
Review by drewandlori
16/06/2015
The conclusion of Alan Moore's "Century" trilogy, covering the history of the League of Extraordinary Gentlemen across the 20th Century.In the story, Orlando tries to reunite the League for a final attempt at stopping Haddo's antichrist, the "Moonchild", from destroying the world. The Moonchild's identity is finally revealed, which I probably should have guessed but didn't. I liked this one better than the first two, partly because it seemed more focused on telling the story than showing off Alan Moore's insanely in-depth knowledge of old pop culture references. I thought it was interesting that most of the references, with one huge exception, were to TV shows and movies (West Wing, In the Loop, 30 Rock, Homicide, the Wire, Bond movies, etc.) rather than books. My personal favorite is the poster for "Who Dat Ninja?", starring Tracy Jordan.
Review by macha
16/06/2015
conclusion to the Century set which draws together a whole lot of plot threads from all the League books, and the Nemo book, to form a satisfying web of allusions. and we meet... no wait, i can't tell you that, but it's a positively Promethea point of view. Alan is back in top form, the book is full of obscure literary allusions, as befits a metafiction, he keeps drawing more and more of those endless otherverses into his cauldron, he's obviously having a lot of fun again, and him and Kevin O'Neill plan to continue writing this one until the end of the world. which hey, could be soon, better get it all while you can, it won't mean much unless you've been following the series.
Review by ragwaine
16/06/2015
This one wasn't as bad (for me) as the others in this series but it was still saturated in references I didn't get and it was really kind of depressing. I read a synopsis of the entire 3 part series and still didn't really understand much of what was going on. This series is EXTREMELY different from the original graphic novel so it's important that you don't go into it thinking that it's going to be a pulpy action adventure novel. This is dark and deals with the stretching of the human soul "forced" to endure immortality.I liked the anti-christ part a lot but the rest of it was kind of boring. The conclusion of the prose story was amazing (as were the previous installments) but as with the graphic novel I would suggest reading all of these books within close proximity to each other. Otherwise you spend half the time referencing the older books (if you have them) or catching up on the plot.