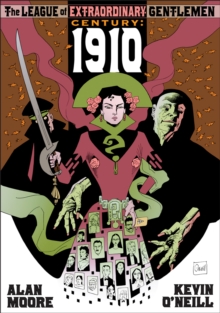 League Of Extraordinary Gentlemen:century 1910 : Century 1910
Paperback
Information
Format: Paperback
Pages: 80 pages, 1 Illustrations, unspecified
Publisher: Knockabout Comics
Publication Date: 22/05/2009
Category: Comics and Graphic Novels
ISBN: 9780861661602
Free Home Delivery
on all orders
Pick up orders
from local bookshops
Reviews
Showing 1 - 5 of 9 reviews.
Previous | Next
Review by TheoClarke
16/06/2015
An enjoyable romp through a familiar pastiche England filled with allusions to Victorian literature but set at the end of the brief Edwardian age. O'Neill's art is masterly but Moore's story is too obvious in places: a woman is happy working as a skivvy until she responds to being raped by becoming visiting her vengeance on the collective inhabitants of London's East End. Not all the allusions are immediately obvious, however; the songs are neat parodies.
Review by drewandlori
16/06/2015
The first installment of a three-part extension of Allan and Mina's adventures through the 20th Century. A little confusing since the references and new characters (primarily from Brecht's "Threepenny Opera" and "The Moonchild" by Aleister Crowley) are a lot more obscure than in earlier stories. But it doesn't matter all that much, as it's a very good story that moves along well, and the art is as great as ever.
Review by Suralon
16/06/2015
Extraordinary Gentlemen A friend of brought this graphic novel to my attention. It's a new addition to "The League of Extraordinary Gentlemen Series, and is subtitled: "Century 1910" by one of my favorite authors Alan Moore.In it the "League's personnel have evolved in the ensuing years since the last issue. The members of the league are once again facing a potentially world treating problem. It seems someone is trying to create a Moonchild in order to bring in a/the New Aeon!Mentioned or involved in the story are Simon Iff, Oliver Haddo, Dr. Taverner, Prince Zaleski, Zanoni, with cameos of many others including Popeye, according to my interpretation. To me this book was a lot of fun! The occult references are intriguing, as in where have I seen that name before?
Review by tiamatq
16/06/2015
The League is back, newly formed (sort of... if you've read the last three books, particularly The Black Dossier, you know about this version of the League already) and it's ready to defend London. Expect to need to sit down with a wiki after you read this (at least I did) to get all the characters and references. If you're a LoEG fan already, that shouldn't be new! Nemo's daughter, Janni, really makes the story, with her departure from Lincoln Island and transformation working in the Cuttlefish Hotel. I had not expected to dislike Orlando so much, particularly after his/her feature in The Black Dossier made me so much more curious about this character. The artwork, as always, is awesome. I felt like the story was somewhat lacking, though I felt the same way about The Black Dossier. The last book was a quick chase, with frequent and lengthy interruptions of the League's history. Moore seems to resist the urge in this volume, with a rather short entry at the end called "Minions of the Moon," which explores the League's future. I'm really curious to see more of this iteration of the League, but it sounds like I'll be disappointed, based on Moore's plans for the next two volumes. I suppose, in a way, I've always been more interested in the other members of the League and less so in Allan and Mina.
Review by deadmanjones
16/06/2015
After the embarrassment of riches of black dossier, with its myriad of styles and stories, comes a slim volume that begins a new 3 part story arc. As beautiful as ever, the style this time is a Sweeney Todd style musical, with much of the action relayed by two singing side characters. It shouldn't work given there's no music, but somehow it does. Not sure the entire 3 part could work in this style though; I suspect this will just be the introduction,