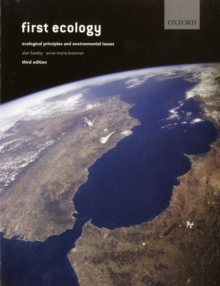 First Ecology : Ecological Principles and Environmental Issues
Paperback / softback
Description
How much do we know about the living world? Enough to predict its future?First Ecology: ecological principles and environmental issues provides a critical and evaluative introduction to the science of ecology.
Alan Beeby and Anne-Maria Brennan present a succinct survey of ecology, describing and explaining the relationship between living organisms and their environment. The third edition of this popular book continues to introduce ecology from a human perspective.
This view of humanity as part of the ecology of the planet makes the fundamental relevance of ecology to all life science students apparent throughout. First Ecology develops in sequence the core themes in ecology at each level of organisation - subcellular, population, ecosystem, landscape and planetary.
Understanding this hierarchy - and the interplay between these levels - is crucial to the environmental decisions our species faces at the start of the twenty-first century.
First Ecology is the ideal primer for you to develop this understanding. Online Resource Centre:The Online Resource Centre features the following materials:For lecturers (password protected):* A virtual field course comprising a series of basic exercises using real data helps students prepare for, and gain more from, their time in the field * Figures from the book, available to download to facilitate lecture preparation * PowerPoint slides introducing key concepts, supported with integrated figures from the book, help to save time in preparing and planning lectures * Routes help students follow and understand various themes and connections throughout the book and offer schemes for independent study* Answers to exercises provided in the bookFor students: * Hyperlinks to the primary literature cited in the book to facilitate access to original research papers * Routes map out how key themes are developed throughout the book .
Web link library of all the URLs included in the book, together with additional web links on specific topics
Information
Format: Paperback / softback
Pages: 432 pages, Numerous colour photographs and line drawings
Publisher: Oxford University Press
Publication Date: 01/12/2007
Category: Environmentalist thought & ideology
ISBN: 9780199298082