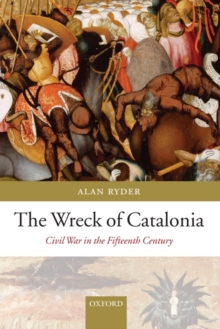 The Wreck of Catalonia : Civil War in the Fifteenth Century
Hardback
Description
This fascinating account examines the fate which overtook the principality of Catalonia in the fifteenth century, reducing it from dominance within the state of Aragon to a marginal role in the Iberian power created by the union of Aragon and Castile.
It begins by studying the tensions destabilising Catalonia: unrest among a peasantry resentful of outdated burdens; merchants and artisans struggling to wrest control of the towns from entrenched oligarchies; anaristocracy devoted to endless feuding; and a monarchy thrown into disarray by the extinction of the Catalan line and its replacement by a Castilian dynasty.
In 1462 , Catalonia degenerated into a civil war which lasted ten years. Part two seeks to explain how and why the king, Juan II, emerged victorious.
The economic and military resources of the two camps, their tactics, and the lines along which Catalan society divided are examined.
Alan Ryder look at the crucial part played by foreign powers in the conflict, who intervened on both sides until Juan turned the tables with his gamble on a Castilian crown for his heir, Fernando.
The surrender of the insurgents in 1472 left Catalonia chaotic, devastated, and mired inmany more years of war with France as Juan struggled to recover the territories he had rashly surrendered in return for French aid.
Catalonia thus lay helpless before the might of Fernando, the Catholic King of Castile, when he became its ruler in 1479.
The measures he imposed to restore order andsubject the principality to the new 'Spanish' state are the theme of the final chapter.
Information
Format: Hardback
Pages: 298 pages, 3 maps
Publisher: Oxford University Press
Publication Date: 12/07/2007
Category: European history
ISBN: 9780199207367
Free Home Delivery
on all orders
Pick up orders
from local bookshops