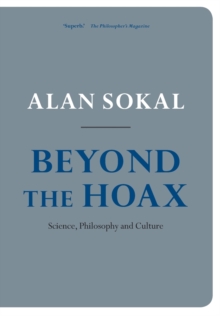 Beyond the Hoax : Science, Philosophy and Culture
Paperback
Description
In 1996, Alan Sokal, a Professor of Physics at New York University, wrote a paper for the cultural-studies journal Social Text, entitled 'Transgressing the Boundaries: Towards a transformative hermeneutics of quantum gravity'.
It was reviewed, accepted and published. Sokal immediately confessed that the whole article was a hoax - a cunningly worded paper designed to expose and parody the style of extreme postmodernist criticism of science.
The story became front-page news around the world and triggered fierce and wide-ranging controversy.
Sokal is one of the most powerful voices in the continuing debate about the status of evidence-based knowledge.
In Beyond the Hoax he turns his attention to a new set of targets - pseudo-science, religion, and misinformation in public life. 'Whether my targets are the postmodernists of the left, the fundamentalists of the right, or the muddle-headed of all political and apolitical stripes, the bottom line is that clear thinking, combined with a respect for evidence, are of the utmost importance to the survival of the human race in the twenty-first century.'The book also includes a hugely illuminating annotated text of the Hoax itself, and a reflection on the furore it provoked.
Information
Format: Paperback
Pages: 488 pages
Publisher: Oxford University Press
Publication Date: 31/12/1998
Category: Philosophy
ISBN: 9780199561834
Free Home Delivery
on all orders
Pick up orders
from local bookshops
Reviews
Showing 1 - 2 of 2 reviews.
Review by FPdC
16/06/2015
A compilation of papers by Sokal about Science, Philosophy of Science, Culture, and Politics, including an annotated reprint of his famous 1996 Social Text hoax. Discussing issues related to postmodernism and science studies, phylosophy of sciences, and religion, this collection should be read by everyone woried about the dire consequences of sloppy reasoning in academia and in everyday life.
Review by psiloiordinary
16/06/2015
Much more than I expected in more ways than one. I expected the text of the Sokal Hoax exposing anti-reality post modernism but the extensive footnotes where a bonus. Then there was plenty of food for thought exploring more examples that started from merely doubting the existence of a real world and the equality of all points of view when it comes to matters of fact but progressed into the direct promotion of nonsense beliefs at the expense of science and to the detriment of innocents. I was particularly dismayed to spot yet another ocean of alternative silliness lapping at the shores of rationality in the form of Rogerian nursing. Finally I was delighted to find a perspective on the Politics of the Left at challenged my previous views and seems to make good sense. With a bit of luck this might even lead me to changing my mind about some things, for good, evidence based reasons of course.