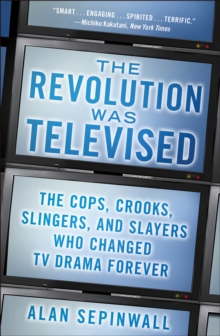 The Revolution Was Televised : The Cops, Crooks, Slingers, and Slayers Who Changed TV Drama Forever
Paperback
Description
In The Revolution Was Televised, celebrated TV critic Alan Sepinwall chronicles the remarkable transformation of the small screen over the past fifteen years.
Focusing on twelve innovative television dramas that changed the medium and the culture at large forever, including The Sopranos, Oz, The Wire, Deadwood, The Shield, Lost, Buffy the Vampire Slayer, 24, Battlestar Galactica, Friday Night Lights, Mad Men, and Breaking Bad, Sepinwall weaves his trademark incisive criticism with highly entertaining reporting about the real-life characters and conflicts behind the scenes.
Drawing on interviews with writers David Chase, David Simon, David Milch, Damon Lindelof and Carlton Cuse, and Vince Gilligan, among others, along with the network executives responsible for green-lighting these fresh shows, The Revolution Was Televisedis the story of how a new golden age was born, one that's as rich with drama and thrills as the very shows themselves.
Information
Format: Paperback
Pages: 400 pages
Publisher: Simon & Schuster
Publication Date: 21/05/2013
Category: Television
ISBN: 9781476739670
Free Home Delivery
on all orders
Pick up orders
from local bookshops
Reviews
Showing 1 - 2 of 2 reviews.
Review by Tara714
16/06/2015
This book wasn't as good as I thought it was going to be. I found the chapters on the shows that I had seen interesting and sometimes it gave me a new view on them but for the ones I hadn't seen I was somewhat lost during it. It was also hard to distinguish at times why something was revolutionary as opposed to just really good. It's an interesting read and I would recommend it to people who have seen and enjoyed the shows that he was talking about. He does give a lot of plot points away so do not read this book if you intend on watching any of the shows.
Review by john.cooper
16/06/2015
For several years, Alan Sepinwall's blog, first at the New Jersey Star Ledger and then at Hitfix.com, has been the site I visit right after watching an intense episode of my favorite serial drama. Sepinwall practically invented the practice of reviewing individual episodes of a TV series, an invaluable service in an era when television shows pack a level of depth and ambiguity that only movies used to have. In this book, he visits a dozen series that expanded how television approaches the storytelling form: Oz, The Sopranos, The Wire, Deadwood, The Shield, Lost, Buffy the Vampire Slayer, 24, Battlestar Galactica, Friday Night Lights, Mad Men, and Breaking Bad. He talks with the producers and writers of each show to get insights about the creative process that went into them and the particular challenges, both artistic and professional, that they solved (or didn't). If you were a fan of any of these shows, you'll enjoy revisiting them through this particular lens, and you'll want to start watching the ones you missed.<br/><br/>Sepinwall's writing here is smoother and even more enjoyable than the off-the-cuff (although still literate and engaging) work he does for the blog. I was pleased to learn that he's not only a great blogger, he's a good writer, period, and whenever his next book comes out, I'll read it—even if it's not about TV.
Also by ALAN SEPINWALL