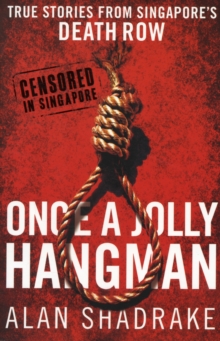 Once a Jolly Hangman
Paperback
Description
Does Singapore have one rule for locals caught with drugs and another for wealthy foreigners?
Why was Australian Nguyen Van Tuong hanged in 2005 while others escaped the noose? And why will the Lion City never hang another Filipina maid?
Singapore has one of the highest execution rates per capita in the world.
Its government claims that only the death penalty can deter drug dealers from using their country as a transport hub.but this hard-hitting investigation reveals disturbing truths about how and when the death penalty is applied.
Including in-depth interviews with Darshan Singh.Singapore's chief executioner for nearly fifty years.and chilling accounts of high-profile cases, this is an horrific expos. of the gross abuse of human rights. When this book was first published in Asia in July 2010, UK journalist Alan Shadrake was arrested and tried, then sentenced to jail.for daring to put the Singapore justice system in the dock.
This revised and updated edition covers Shadrake's arrest, and his ongoing campaign against the death penalty as he prepares for his appeal.
Free Home Delivery
on all orders
Pick up orders
from local bookshops