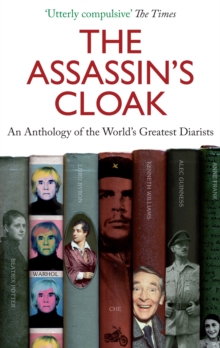 The Assassin's Cloak
Paperback
Description
With 170 contributors, a scope that is peerless, international and crosses centuries The Assassin's Cloak pays tribute to a fascinating genre that is at once the most intimate and public of all literary forms.
There are several diary excerpts for every day of the year beginning with Samuel Pepys and along the way we meet cads and charmers, sailors and psychopaths, rock stars and prima ballerinas, gossips, drunks, snobs, lechers and lovers.
There is humour and tragedy, history and the humdrum, often recoded on the same day or in the same entry.
Information
Format: Paperback
Pages: 720 pages
Publisher: Canongate Books Ltd
Publication Date: 11/11/2003
Category: Anthologies (non-poetry)
ISBN: 9781841954592
Free Home Delivery
on all orders
Pick up orders
from local bookshops
Reviews
Showing 1 - 2 of 2 reviews.
Review by Booksloth
16/06/2015
Probably the best anthology of diary extracts I have ever read. When I bought it I had expected it to be one of those books I would keep by the bed and dip in and out of from time to time. Instead, I found that once I picked it up I simply couldn't put it down again. I'm very fond of diaries but there's no denying that even the most interesting lives can have their 'ho-hum' moments and there invariably comes the odd period that is the literary equivalent of 'Got up. Porridge for breakfast. Went to school. Came home. Neighbours on telly. Went to bed.' Not so in this book. Because it's an anthology the editors have been able to pick out the very cream of diary entries and every single one is a gem. My usual complaint about books like this is that they can come across as being a bit disjointed but that certainly isn't the case here. By presenting the excerpts in the traditional diary format of one day at a time (regardless of the year or the author) the editors of this wonderful book have achieved a satisfying coherence to the work with frequent flashes of humour, poignancy and just enough information about the diarists to inform and entertain, but never bore. I kept picking this book up, meaning to have a quick ten-minute browse, only to find myself, hours later, putting it down again with great reluctance. It's a book I can't recommend heartily enough and one I know I will return to time and time again over the years.
Review by MarionII
16/06/2015
Good book for the bedside table to dip into when you've got a minute. Some of the diarists are (admittedly) unknown to me but it doesn't detract from the enjoyment, after all - who could resist reading someone else's diary?